Published: 26/02/2018


The deadline to get rid of your old £10 notes is fast approaching. As of Thursday, 1st March 2018, shops and restaurants across the UK will no longer be accepting the old paper notes. Seeing as the paper £10 note has been around for more than 250 years, Mr Lender had a look at how it has changed over the years, and how you can swap them for the newer polymer notes before the cut off date.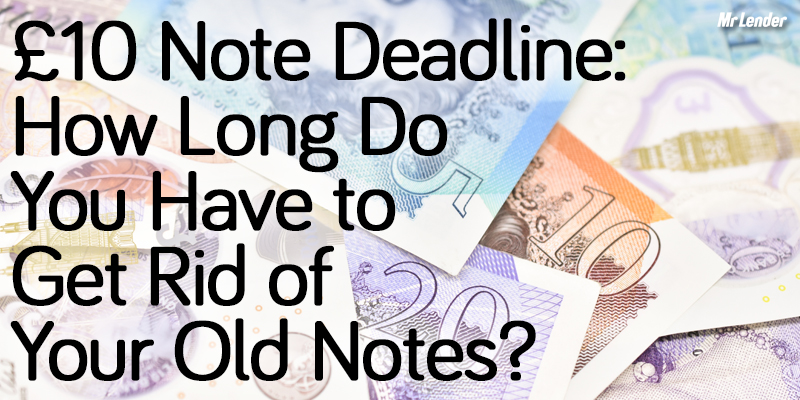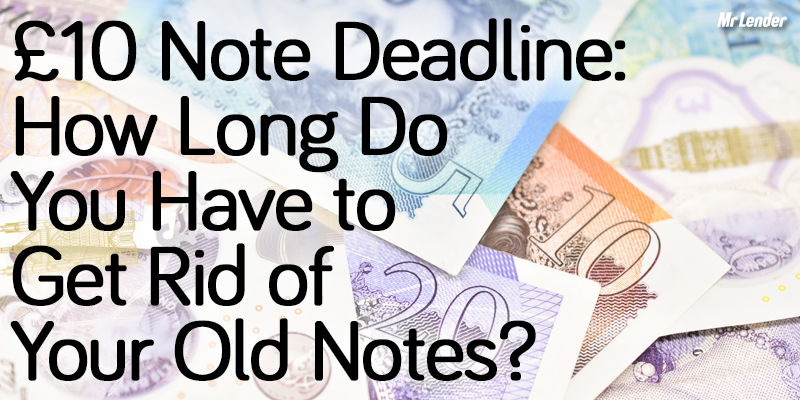 £10 deadline
According to the Bank of England, there are still at least £2.2billion worth of notes in circulation. The Bank says that the old paper notes are being returned at an average of 8.5million notes per week – meaning it would take a staggering 25 weeks to return all of the remaining notes. They've also said "it is broadly in line with forecasts. We saw a similar trend to paper £5 returns but don't expect all notes to be returned as some will have been destroyed, gone overseas, or kept as memorabilia."
If you have any notes laying around the house, you can take them to your local bank branch or building society to exchange them or simply put them into your account. You can also take them to the Post Office, however it's important to keep in mind that banks, building societies and Post Offices aren't legally obliged to accept notes after the deadline. Alternatively, you can take them to the Bank of England building on Threadneedle Street in London, or post them back to the Bank instead. The Bank of England are legally required to accept old notes indefinitely, and they say they've exchanged notes for 46,000 customers so far since the paper £5 notes were withdrawn from circulation – 27,000 of these customers visited the Threadneedle Street Bank in person.
If you plan on exchanging quite a large amount of £10 notes, you may be asked to provide proof of ID, such as a passport or driving license.
Counterfeit notes
One of the main reasons for the switch to polymer notes is to combat fraudsters and prevent counterfeit notes entering circulation. The Bank of England says just 0.0054% of £10 notes were counterfeit in 2017, while 0.0002% of £5 notes were counterfeit. This is quite a drop from 0.0006% in 2016.
History of the £10 note
As paper notes as we know them slowly begin to leave circulation for good, we decided to take a look back at when the original £10 paper notes were introduced more than 220 years ago.
Back in 1795, the first £10 note was issued. This first note was simply black and white, with information printed on just one side of the note. They were slightly more than one and a half times the size of the polymer £10 notes in use today. Quite surprisingly, these notes continued to be legal tender for an incredible 150 years, and only ceased to be legal on 16th April 1945. The UK then didn't see another £10 note enter circulation for 19 years.
After almost two decades, on 21st February 1964, a new £10 note was released. This was the first £10 note to include a portrait of the monarch and to use threaded paper. This note stayed in circulation until it ceased to be legal tender 15 years later, on 31st May 1979.
The next £10 to be issued was on 20th February 1975. This note was updated with a 'windowed' security thread on 16th July 1987 and was around for 19 years before it ceased to be legal lender on 20th May 1994. Two years earlier, on 29th April 1992, another updated £10 note was introduced which included a picture of Charles Dickens on the reverse for the first time (the note prior to this one had Florence Nightingale on the back). This note stuck around until 31st July 2003 when it ceased to be legal tender.
And finally, on 7th November 2000, the paper £10 note we've known and loved for the last 18 years was introduced. From the 1st of March, these will no longer be legal tender and paper £10 notes as we know them will be no more.
Polymer £20
Now that £5 and £10 notes have now been exchanged for the Polymer alternative, it was inevitable that the £20 note would receive the same treatment. In 2020, the new polymer £20 notes are set to be released and will feature British painter JMW Turner. Judging by the timelines of the £5 and £10 notes, it's likely that the paper £20 notes will go out of circulation shortly after the polymer alternatives are released.
Polymer notes
Polymer notes were first introduced back in September 2016 with the new £5 featuring Winston Churchill. By switching to the notes, the UK joined more than 30 other countries who use them, including Australia, Singapore and New Zealand. The notes are believed to be more durable – lasting twice as long as paper notes, they're said to be less likely to tear, and they will only melt at 120°C. The notes have been designed to repel dirt and moisture, and they're meant to be harder for fraudsters to counterfeit. Take a look at the video below to see some of the unique features present in the new polymer notes.