Published: 11/05/2017
If you want to know how to decorate your bedroom on a budget, take a look at these top tips:
Use fairy lights to add character
Shift the furniture around to try something new
Replace your headboard
Buy a rug instead of paying out for a new carpet
Buy new handles for your furniture
Add colour with some bright blinds or curtains
Invest in a selection of scatter cushions
Store all of your trinkets, books and photos on a shelf
Put up a wall sticker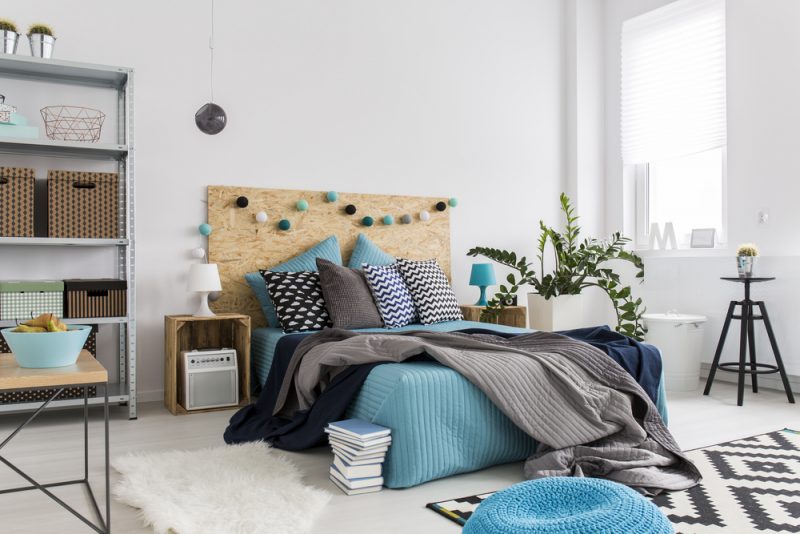 Decorating your bedroom always comes with a great feeling – a sense of newness mixed with pride at having let your creative juices flow into building a whole new room for yourself. Redecorating can also  sometimes come with quite a hefty price tag – though it doesn't have to. Mr Lender, a short term loan provider, has put together nine ways for you to decorate your bedroom on a budget.
Fairy Lights
Adding a string of fairy lights can instantly change any room. Strategically placing fairy lights around your bedroom will add light and character to your room for just a small cost. You could even clip Polaroid photos to the string of lights to make your room that extra bit special.
Move furniture
Simply moving your furniture around can make it feel like a whole new room. Try switching your bed to a different side of the room and see how much of a difference that makes – you may be pleasantly surprised.
Switch your headboard
You don't need to spend hundreds on a new bed just to change the appearance of your room. Simply buying a new headboard can make a huge difference. If you like to switch your room up regularly, opt for a neutral headboard which will fit nicely with plenty of different colours and styles. You could even simply drape a throw over your headboard for an instant update.
Buy a rug
Instead of paying to have a carpet fitted, buy  a rug instead. If you have a particularly small bedroom this will work better as the rug will cover a majority of the floor. Rugs are often far cheaper than buying a full size carpet, and you can easily change them when you fancy another revamp.
Give the furniture a new look
Why pay out for new furniture when you can just refurbish what you already have? Why not paint your wardrobes and drawers to fit in with your new colour scheme, or simply buy some new handles. Most hardware stores have a variety of different handles to choose from, meaning you can give your furniture a completely new look whenever you redecorate.
Look at the windows
If you want to add a bit of colour to your room, but you don't want to commit to anything on a large scale, try adding some bright blinds or curtains. Opting for a pop of colour at the windows will instantly give your room a bright, new look, without costing a fortune.
Switch up your pillows
Adding a few scatter cushions to your bed can be a great addition to any bedroom. But avoid overdoing it and running the risk of having more pillows than bed space. Give your bedroom a new look with some new cushions, but be sure to store your old ones out of the way for now. You could even have a selection to suit your different bed sets. Though to save a little money, you may want to opt for a neutral colour cushion as this will be far more versatile.
Put up a shelf
To give your room a new look, put up a shelf to store any books, trinkets and photographs. This will add some character to your room, and is a great way to keep your room looking neat and tidy.
Add a wall sticker
One very simple, but highly effective way of decorating your room on a budget, is to buy a few wall stickers to dot around your room. There are plenty available, from pretty pictures to motivational quotes – choose something which goes with the theme of your room and run with it. Wall stickers are great, because they can be changed as often as you like to keep up with your changing room.