Published: 29/11/2016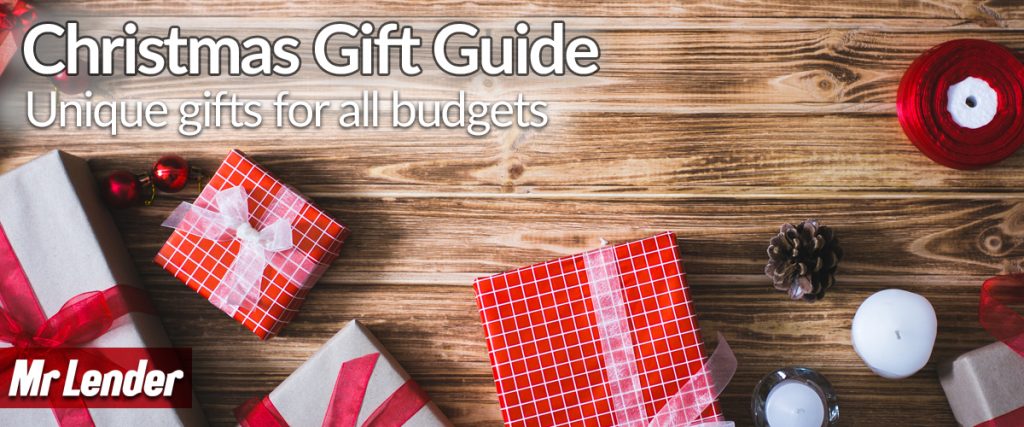 Christmas is upon us and the official countdown to the big day has begun.  Whilst we all look forward to some time off with our family, filling our boots (and our bellies) to the brim, it can also be daunting due to the financial strain that it can have on some families.
Well do not fret, Mr Lender is here to help you out with our Christmas Gift Guide for all the family with a range of budgets to suit all.  Whether you have £10 to spend per head or £100, we hope that this guide will help you with some gift options for everyone from mum to granddad.
Mum
£10
If mum is a yoga fanatic, then this Amazon Basics 0.6mm Yoga and Exercise Mat with Carrying Strap will be extremely useful for her to cart around in between yoga classes, and the price is very purse-friendly. Currently priced at £12.99
£20
Everyone likes to spruce up with some new make-up, and this Stila Perfect Me, Perfect Hue Eye & Cheek Palette, is a perfect all-rounder.  It's all your mum will need in her bag.
Priced at £28.
£100
This Christmas, online wine shop Le Petit Ballon has crafted the ultimate present for wine lovers in the form of a three, six and twelve-month gift subscription. A great package for wine connoisseurs and novices alike, Le Petit Ballon's unique subscription service delivers two bottles of wine each month, hand-picked by sommelier and founding partner Jean-Michel Deluc.
Starting from £74.70 for a three-month package, both bottles of wine come complete with their respective tasting notes as well as the Gazette wine magazine.
Dad
£10
Daddy Cool groovy groomer ear and nose trimmer, safer than scissors for removing unsightly ear and nose hair.  Groom those ears daddy-o and those nose hairs ain't groovy. Lift off daddy-o's fro to reveal the stainless steel trimming head, groom and your ready to go. Priced at £9.95
£20
Enjoy big screen viewing from your smartphone with this lightweight and portable Smartphone Projector. Perfect for sharing videos, photos and live streaming with family and friends, it projects a screen size of between 50-99cm onto any flat surface. It's great for watching a big match, looking at your holiday shots, skyping, watching films and so much more. With pull out stand and slots in the side for a charging cable and headphone wires. Compatible with all phones, it has a grippy silicone base to keep your device firmly in place. Priced at £19.99
£50
WingLights, from cycle brand CYCL, are direction indicators for bicycles that fit easily onto the handlebars and are activated with a simple tap. The powerful amber lights flash at the same frequency as car indicators, to ensure bikes are highly visible, day and night. They are shockproof and 100% waterproof with bright LEDs to provide cyclists with 360 visibility in all light and weather conditions. 2 new priced at £37.99
Son
£10
Bearty is a great resource for art that doesn't break the bank, so if your son is at university or just likes to decorate his bedroom walls, there will be a print for everyone on here.  This Art print of 'Reservoir Dogs' By David Redon, from £14, is a great addition to any room.
£20
Music lovers rejoice at this Amazon Basics Portable Bluetooth Speaker – Blue, currently priced at £20.99.
£50
Homido Virtual Reality 3D wireless headset glasses for smartphones.
Homido is 100% 3D compatible, allowing you to watch your favourite 3D movies. The binocular vision mode of the headset and the two VR lenses offer a perfect stereoscopic experience, currently priced at £47.99.
£100
Star Wars fans span generations, and with the new movies coming out, there has never been such a big demand for the successful franchise.  If you want to splash out on a special toy, for a special someone, then look no further than the Sphero BB-8 Droid, currently priced at £89.99
Daughter
£20
Amazon has a great handmade section, where you can find all kinds of items for the house.  This Think Happy Be Happy Pillow by Lovely Décor, priced at 
£20.99, would be a beautiful addition to any girls bedroom.
£50
Tech is always popular for Christmas presents, and this Filofax iPad Pro 9.7 Tablet Case in Gold, will protect her tech whilst retaining fashionista status, currently priced at £44.99.
£100
VQ Retro Mini Radio Emma Bridgewater
The popular Retro Mini is now available in eight of Emma Bridgewater's signature prints, which includes the newest in the range, the Wallflower print. An ideal accessory for lovers of Emma's vibrant prints, these Bluetooth and portable DAB/FM/DAB+ radios blend the latest audio technology into its petite 224mm x 147mm frame. Priced £59.99 – £79.99.
Grandparents
£12
Cockburn's Special Reserve Port (75cl)
Originally introduced in 1969 Cockburn's Special Reserve was so ground-breaking it created a whole new Port category and has since been the drink of choice for families and friends looking to celebrate those special moments in their lives. Hailed as one of the most iconic Ports of all time it's matured in oak casks, giving it the full bodied dry finish, which made it the benchmark for all Reserve Ports.
Available from all supermarkets
£20
Grandparents are always notoriously difficult to buy for, as their needs are pretty simple, so if you're going to gift chocolates, then at least make them a little fancy, like this Prestat Christmas Chocolate Box.