Published: 11/02/2015
With the most romantic day of the year fast approaching, Mr Lender continues the mini-guide to Valentine's Day by looking at the big event of dining out.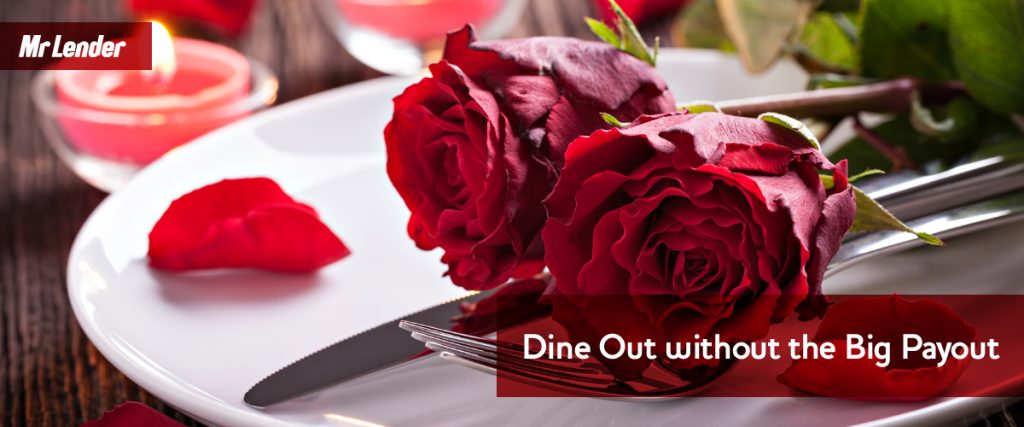 With Valentine's Day takings expected to exceed £1 billion this year, it's no surprise that a large portion of this will inevitably go to the restaurant industry due to high expectations for people to wine and dine their partners.
In a survey by OpenTable, the UK's leading restaurant booking site, they discovered that 2/3 of women would rather be taken out for a meal on Valentine's Day than be given flowers, and so over 26% of us plan to celebrate this February 14th by dining out.
A lot of people were probably extremely organised and had their Valentine's Day meal booked well in advance, but over 30% of us leave it to the last minute to book, sometimes even waiting until 14th February itself.
To save you searching for the best deals, we have scoured the internet and created a list of well-known restaurants that are offering vouchers or set menus to suit every budget.
Now set menus offer great value for money, but people often forget that the price displayed is 'per person' and that drinks are normally not included.  So we have put together a quick price guide with rough prices* for drinks, etc to give you an idea of how much the whole meal might cost you**, that way there are no nasty surprises when the waitress brings the bill.
Dining alone this Valentine's? We have just the thing…
February 14th is also Singles Awareness Day, better known as Anti-Valentine's Day, so celebrate being a singleton in style with these takeaway offers. And you know the best thing about being single? You don't have to share!  Enjoy.
*Update*
As Valentine's Day has been and gone, so have the offers! Keep an eye out on the Mr Lender blog for more useful articles on where to get the best deals.
Mr Lender is a leading UK-based short-term credit provider.  We provide payday loans and short-term loans of up to £1,000, repayable up to six months.
Warning: Late repayment can cause you serious money problems.  For help go to moneyadviceservice.org.uk