Published: 17/02/2015
The UK is a gadget nation whose obsession has led to these gadgets playing an essential role in our everyday lives. From laptops, e-readers and tablets, to smartphones, cameras and wearable devices, the advancement of mobile technology means that gadgets are everywhere. With this obsession in full swing at this week's Gadget Show Live, the Mr Lender blog tackles the topic of gadget insurance.
"Why do I need gadget insurance?" we hear you ask … well, we have some advice on why this additional expense could prove beneficial (and help save you money in the long run), plus we'll point out some key features worth looking into before taking out your policy.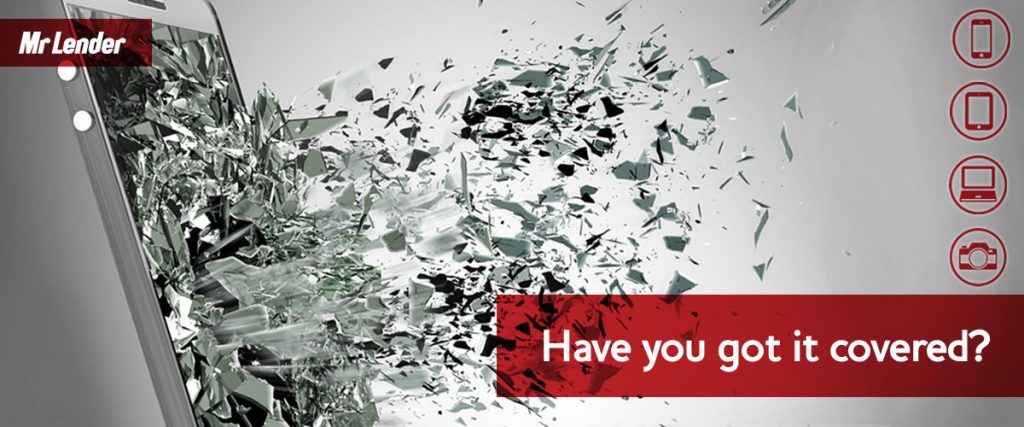 The obsession
Last year saw gadgets officially outnumber human beings, with numbers going from 0 to 7.22 billion worldwide in under 3 decades. Britons regularly carry over £22 billion worth of gadgets on their person every day, with the average rush hour train on the London Underground carrying an estimated £500,000 worth of smart devices. Our dependency on gadgets means that when they go wrong it not only causes a huge inconvenience, but there are also significant financial implications, with a staggering £1.2 billion worth of gadget disasters estimated to occur each year.
Despite this, most of us are reluctant to protect the devices that are most dear to us. A study commissioned by Affinion International, a global leader in consumer engagement, found that the UK collectively spends £9 billion a year on new gadgets. However with 17% reporting that they broke their shiny new gadget in the first year, it's surprising that over 2/3 of us have no insurance cover for our devices. With mobile technology being just that, mobile, we are most likely to damage our devices when we're out, with 59% of us losing our gadgets in public places each year. This proves a problem for people relying on conventional home or contents insurance to cover any loss or damage to gadgets. These insurances rarely cover your devices outside the home, and any claim made for damage that occurs inside the home will most likely result in a large excess payment, the loss of your no-claims bonus and your premium going up upon renewal. Moreover, normal home and contents insurance is highly unlikely to cover mechanical breakdown, accidental damage or cracked screens, which is the most common damage to occur to gadgets.
This is where gadget insurance comes in
With this specialist insurance you get a greater level of protection that covers all of your gadgets wherever you are, plus cheaper excesses should you claim. Multi-gadget insurance can be extremely beneficial even if you only carry a small number of high-tech items around with you. Losing or damaging just one item, such as your tablet, could cost you hundreds of pounds to replace, whereas gadget insurance is a fraction of the price. Although mobile phone providers offer their own independent insurance cover, this can prove expensive and only covers your phone.  With so many of us carrying around more than one gadget, multi-gadget insurance works to protect all your devices under one policy.  Once covered, you can rest easy in the knowledge that your devices are protected worldwide against unauthorised use, accidental damage, liquid damage, mechanical breakdown, theft, cracked screens and more. Plus, all insurers provide family cover so your devices are protected even if your partner or immediate family are the ones using the device when the unthinkable happens. Another bonus is that nearly all multi-gadget insurers offer discounts for insuring more than one device on the same policy. With discounts ranging from 5-15%, it makes it easier for you to protect all of your gadgets while keeping costs down.
Multi-gadget insurers
Gadget insurance is seeing a significant growth as an industry, with new companies appearing every day as more of us seek to protect the devices that are most precious to us. With so many providers out there offering roughly the same price, it can seem quite a daunting task to chose the right insurance for you.  However, it's worth noting that although their prices are similar, the actual cover for most insurance providers can differ greatly around certain important features, especially regarding what is covered as standard and what is an optional extra.  To help you make an informed decision, we've broken down the key features that you should look out for when deciding to take out a multi-gadget insurance policy.
What features to look out for:
Loss
Nearly all gadget insurers do not include loss as standard.  Instead it is either an optional extra or part of a more expensive package.  If you do decide to include loss as part of your policy, check what items are included as many insurers will not cover laptops or macbooks under loss.
Theft
Most insurers include theft as standard, however some i.e. Gadget Buddy or Trusted Insurances have started to include it as an optional extra on a more expensive package. Check the terms and conditions of the policy beforehand to ensure that theft is included in your cover…do not assume it will automatically be part of the policy.
Excess
Although excesses tend to start at £25, gadget insurers base the excess on the value of the product that you are claiming against, so you could end up paying as much as £75 excess depending on the item. Nearly all insurers will charge higher excess values for iPhones, iPads and laptops. There are only a handful of gadget insurers that will let you set a flat excess rate across all of your gadgets. Keep in mind that a lot of insurers will also charge an extra £25 on top of your normal excess if you claim within the first 30 days or even up to the first 3 months of your policy starting, so check the terms and conditions of each insurer before you take out a policy.
Starting cover
Always check to see when your cover starts. Most insurers will not cover you for the first 14 days of your policy, and if you make any changes to your policy, you have to wait another 14 days before you can make a claim. Some insurers include instant cover (i.e. Gadget Cover and Trusted Insurances), but this cover is normally only active within the UK and you'll still have to wait another 14 days before that cover goes worldwide.
Claiming
Check the terms and conditions of the policy before you purchase it to see how many times you can claim within a year. If you are accident prone, you are best to go with an insurer who gives you unlimited repairs and replacements, like Gadget Cover, as many insurers will limit the number of claims and replacements you can have throughout the year.
Additional Features
Get the most from your gadget insurance by finding an insurer that gives you added benefits.
Data back-up
The reason we value our gadgets so highly is because of the content we store on them.  It's therefore surprising that so few gadget insurers include data back-up on their cover. This is an extremely helpful feature that will store your phones content (including contact numbers, photos, music etc) and let you transfer them to your new device if the old one needs replacing. The only insurer we have found so far offering this serve is Gadget Cover.
Online fraud protection
A handful of insurers offer this useful feature which compensates you if someone steals your device and uses your online banking apps to withdraw money from your accounts.  This cover is often referred to as 'e-wallet' protection, and is offered by Trusted Insurances, Switched On Insurance, and a few others.
Accessory cover
Offered by some insurers as standard, this cover is useful if you're all about your Beats headphones and SD cards.  Most insurers have accessory cover as an optional extra so check the terms and conditions of your policy before you take out any cover.  So if your accessories are just as valuable to you as the gadget, make sure you get them covered. Whatever multi-gadget insurance you decide to take out, please note that insurers won't allow you to add a gadget that is older than 18 months. However, it is worth remembering that if your gadget is less than 6 months old and has a mechanical breakdown, you do not need to claim on your insurance policy as it is more likely a fault with the product that will fall under the device's warranty, than damage caused by general wear and tear.  If this happens, take the device back to the shop or supplier you purchased it from.
Remember…
Do your research before you take out any policy to ensure that you not only get the best value for money, but that you get the right cover to suit your devices. *Please note, exclusions apply to all Multi-Gadget Insurance packages. Please read the Terms and Conditions of your policy to ensure that you are fully clear on the coverage and exclusions that apply.
Mr Lender is a leading UK-based short-term credit provider.  We provide payday loans and short-term loans of up to £1,000, repayable up to six months.
Warning: Late repayment can cause you serious money problems.  For help go to moneyadviceservice.org.uk