Published: 26/11/2015

Last November you would have been hiding not to see reports of Black Friday with masses rushing to the stores and creating havoc.
This year, this retail phenomenon shows no signs of slowing; reports indicate that tomorrow's Black Friday is estimated to be the first £1bn shopping day in the UK, with over 100 million visits on retailer websites and retailers giving away even better deals.
Mr Lender, a leading short-term loan provider has compiled five top tips to help you get the most out of Black Friday 2015.  This will help you to save a few pounds and make your money go further.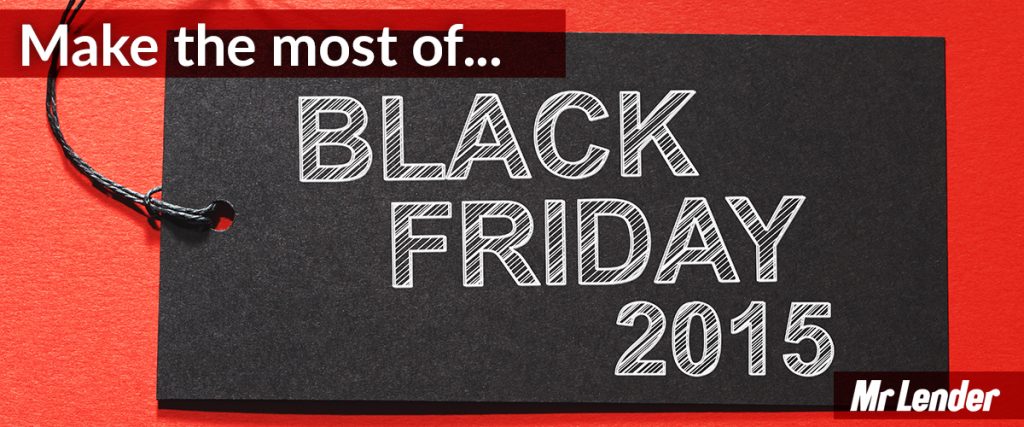 The B in Black Friday should also stand for Budget
The most important thing when planning any sort of spending is to begin with a budget in mind. The point of Black Friday's hype is the amount of savings on offer, but that shouldn't come at the detriment of your finances. Black Friday comes around payday for a lot of people, so while you may have some cash available soon after getting paid, it's not worth getting the best discounts if you spend more than you can realistically afford. Work out how much you can afford to spend while giving yourself the buffer needed to carry on for the rest of the month.
Do your homework
Pre-planning to get the best deals is vital. Be focused and know what you are going to buy, whether it's a new TV, vacuum cleaner or white goods. However, researching beforehand lets you know how limited an item or its availability is, and can come in handy for getting the best returns on your money and more importantly your time.
The early shopper gets the deal
Feel free to get to a store early on the day, and by all means join the likely scrum for that microwave you've been eyeing up. But be smart; the reality is you're most likely to get just as good a deal from behind your computer screen. Many retailers are already releasing their online deals, like ao.com and Amazon. You may get what you're after from the comfort of your own home, so no need to get involved with the in-store frenzy.
Don't ignore the unusual suspects
The hype of Black Friday tends to be consumed by the big retailers on the day but some of the best savings can be from lesser known brands. Smaller shops can have some amazing deals on offer, so make sure you shop around.
All is not lost
If for some unforeseen reason you can't get to your favourite online store or can't get to a retailer in time, then all is not lost. All these tips listed above work equally well on the following Monday, known as 'Cyber Monday'. In fact you could even get better deals as this is the one where the sales are mainly based online. We'll be publishing deals on our social media channels highlighting any great deals we discover, as more tips as the day approaches.
By being prepared and tracking the best options for your budget, you can make it a rewarding shopping event which could leave you with a bit more cash to enjoy this Christmas.
---
Mr Lender offers payday loans of between £100 and £1,000, repayable up to six months.
Warning: Late repayment can cause you serious money problems.  For help go to moneyadviceservice.org.uk