Published: 11/08/2015

Have you ever checked your bank balance and been left surprised by how little is in there, with no idea where it all went?  It's very easy to spend money nowadays without any effort; with mobile shopping apps at our fingertips it makes purchasing those shoes or that pair of sunglasses quick and simple… but sometimes it's so quick we don't even register it or take it into account for that month's spending, leaving you 2 weeks until payday and with hardly any money left.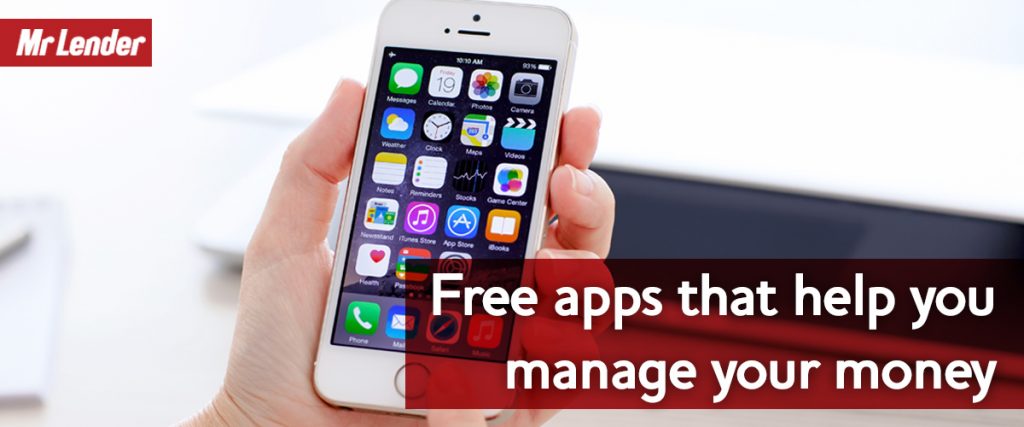 However there is something that can help, and it too can be found in the form of an app… of the non-shopping, free variety. With over 72%* of the UK population owning a smartphone, it's no surprise that mobile and banking apps are hugely popular, with 2 in 5 people* saying that smartphone apps are their go-to when it comes to managing their bank balance.
But to truly manage your finances and better understand where your money goes every month, you need an app that does more than simply show your bank balance. There are literally hundreds of apps on the market geared towards helping you manage your money, so to save you time we've come up with a list of our top 5 free apps for money management that put financial control at your fingertips. These have features that can help you track your spending, budget your income, help you save, and even remind you about bills.
---
Money Lover is a must-have app for keeping track of your income and expenditure.  Quickly and easily log all of your financial transactions, slotting each outgoing expense within categories e.g. food, clothes, travel etc, so that you can see where you are spending your money each month. But recording your transactions is just the beginning… Money Lover is a fantastic budgeting tool that allows you to set individual budgets for each of the categories, and will notify you if you overspend.  The app tracks trends in your spending so you can see where you spend the most amount of money on a regular basis, allowing you to tweak your spending habits and budget accordingly.  This app even has a dedicated section for savings, allowing you to set goals and deadlines to help you reach your target. Get bill reminders, plus create great visual reports and export them as Excel spreadsheets. Money Lover is a great money management tool that syncs to all your devices so you are always in control of your spending.
Operating system: Android  |  Apple
---
OnTrees by MoneySuperMarket
If having to manually input transactions into an app every time you spend money seems like too much hassle, then OnTrees might be the app for you.  With many of us having current accounts, savings and credit cards with a number of different banks, logging in and out of each different app to keep track of your balances can be annoying.  OnTrees provides you with a one-stop-shop intelligent app that links up directly with your bank accounts to let you view all your bank balances in one place. What makes this app stand out for us in one word is automation.  Because the OnTrees app is hooked up to your bank accounts, the app automatically updates and tracks your spending transactions so there's no need for you to manually input anything.  This intelligent app automatically categorises your spending into different areas, e.g. 'groceries', 'restaurants', 'ATM withdrawals', 'mortgage', etc, creating great visual graphs and diagrams so that you can see exactly where you are spending the most money, how much you spend on each category each month, and even what day of the week you spend the most for each category.
OnTrees informs you if you are spending more than you earn, and if you under spend it will give you informed suggestions about savings. To set up this app, you need to give OnTrees access to your online banking log in details… and naturally,. this will set alarm bells ringing for some people.  However, this app is a part of the MoneySuperMarket company and is backed by some of the biggest banking organisations including CitiBank, American Express, Santander and many more. Moreover, this is a 'read-only' app, meaning that no one, not even you, can move money in or out of your accounts using the OnTrees app, so your money will always be safe.  With its high security and automatic tracking and categorising, OnTrees is a powerful app that should make managing your finances effortless.
Operating system: Apple
---
The previous apps we have mentioned provide a way for you to track your spending, but GoodBudget gives you a way to plan before you spend to ensure that you live within your means and never go over budget. The app is based on the 'tried and tested' envelope system where you divide your income up into separate budgets or 'envelopes', putting enough money aside for each area, i.e. £100 for food, £200 for bills, etc, and you then stick to those budget amounts when you conduct your spending for the month.  You can create as many envelopes as you need and set a capped amount for each, then as you spend throughout the month just update each envelope with what you have spent and the app will let you know how much you have left to spend in that budget or if you have overspent.  You can split transactions across multiple envelopes, and the app syncs with multiple users meaning that you and your partner can keep track of your joint budgets.  This app is great for planning ahead and helps you manage your income in a more proactive way before you start spending.
Operating system: Android  |  Apple
---
We've spent a lot of time telling you about how you can track where you spend your money, but now we want to talk about saving it. Saving Made Simple is a no-frills app that has the sole aim of helping you to reach your saving goals.  Whether you are saving for a new laptop, a holiday, a house or even a bill, this app lets you set up goals for all of your saving needs, and most importantly it makes reaching them attainable.  Set up the goal amount of how much you want to save and the deadline that you need to save it by, and the app will work out exactly how much you need to put away on a daily, weekly, bi-weekly or monthly basis to ensure that you reach your target amount in time. By having a visual goal, it helps to motivate your saving as you see yourself edge closer to your target, and the suggested payment amounts update the more you put in.  Set repeat reminders and the app will automatically notify you that you need to place a payment into your savings account, ensuring that you keep on track with your savings and reach your goal amount.
Operating system: Android
---
Never miss a bill payment again. This useful app makes missing bill payments and incurring late fees a thing of the past with its automatic reminders. Simply input all the information on your different bills into the app, including amounts and due dates, and it organises your bills into Upcoming, Overdue, Paid and Unpaid so that you can keep track. You can also set recurring bill reminders so that you never miss payment. Bill Reminder even makes paying bills easier. When setting up your reminders, you can paste links to all the websites where you normally make your online payments. That way when you receive the reminder notification on your screen, simply click 'Pay' and it will take you straight to the website and let you pay your bill straight away.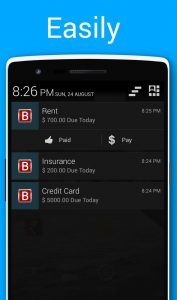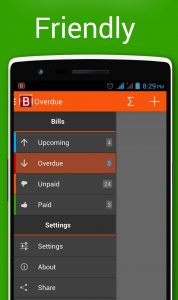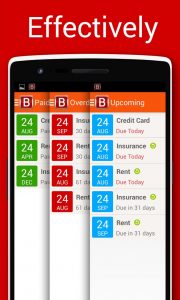 Operating system: Android
*Figures acquired from a ThinkMoney article published 9 June 2015, using research conducted by the Competition and Markets Authority
Mr Lender is a leading short-term credit provider in the UK. We help people out of short term financial difficulty by providing loans of up to £1,000 that are repaid over 6 months.