Published: 30/11/2016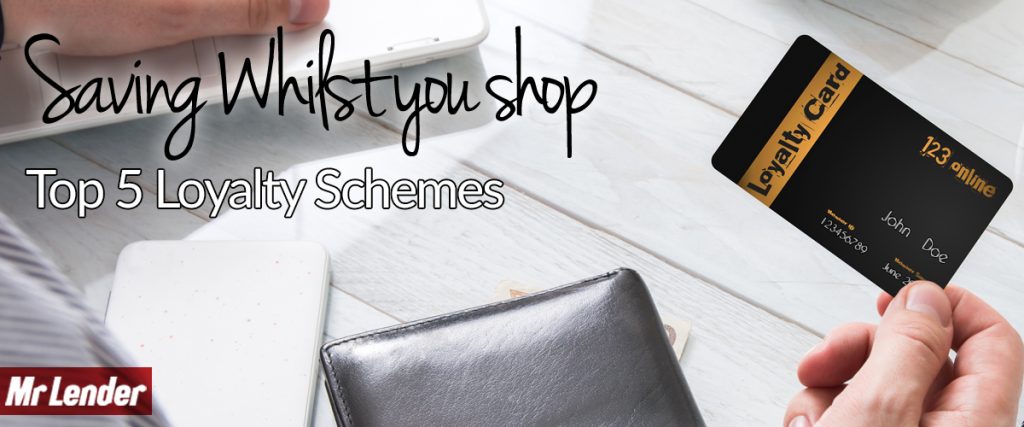 In the UK, 92% of us are registered with a loyalty card program, to take advantage of the rewards they offer. Initially, loyalty cards were launched by supermarkets, as they compete against each other to retain customer loyalty, but now they are available at most high street stores. From Mr Lender HQ, here's a roundup of the top 5 loyalty schemes in the UK, how they work and the best way to use them.
Tesco
No surprise that one of the originators in the loyalty card scheme is the most popular, with a whopping 79% of their customers taking part in the scheme. Customers earn points for shopping in-store, online or topping up with Tesco petrol. Other partners include Esso and E.ON. For every £1 spent on food and £2 spent on fuel, members get one point. Each point is worth a penny if used for in-store shopping, and they're sent out in vouchers (if you've at least 150 points on your account) every three months.
The Boost scheme, which includes restaurant vouchers, train tickets and jewellery, allows members to triple or quadruple their points. For example, you can turn £2.50 into a £10 voucher at Pizza Express
Nectar
Partner companies include Sainsbury's and BP, as well as Argos, Homebase and a number of online stores, such as eBay, Apple and Sky. Cardholders collect one point for every £1 spent in-store at Sainsbury's, online or on petrol. 500 points are worth £2.50. You can also spend them on rewards, from days out to train tickets and discounts at restaurants, such as Pizza Express, where 500 points are worth £3.75.
Nectar double-up promos happy quarterly, with the latest one having just finished. A new one is expected in spring 2017, and the promotion usually includes about seven categories in which you can double the value of your Nectar points.
Boots Advantage
59% of UK adults have a Boots Advantage Card, making it the third most popular loyalty card scheme. You earn four points for every £1 spent – and the scheme is known as one of the most generous – as each point is worth 1p. There are many ways to maximise points, such as visiting Boots' Extra Offer Kiosk, shopping on Mega Points Weekends (where if you spend £50 either online or in store, you get 1,000 extra points worth £10) and remembering to deposit any points earned online when you're in a Boots store.
Morrisons Match & More
Operating since 2014, the Morrisons Match & More card is relatively new to the loyalty card program, but it's still the fourth most popular in the UK.  The match part of the card will price match supermarkets such as Aldi, Lidl, Tesco, Sainsbury's or Asda, by giving you the difference in points.  £1 difference = 1,000 points. The more refers to the points you can earn when you buy products in-store and online. You also get points whenever you fill up at a Morrisons petrol station. 1 litre = 10 points. Prices are checked by an independent company. The scheme launched before Christmas 2014 – and 25% of UK adults have already signed up.
Superdrug
Our fifth most popular loyalty card scheme, with 19% of UK adults signing up, is Superdrug's Health and Beautycard. You get one point for every £1 spent and each point is worth 1p. In addition to getting £1 to spend in-store or online for every 100 points, you'll also get access to exclusive member pricing and birthday treats.
If your wallet is bursting to the seams with all your loyalty cards, or if like the most of us, you keep forgetting to take certain ones out (therefore missing out on any points), then the Loyalive app could be the answer to all your problems.  The first app that lets you store all your loyalty cards, view your live balances and discover the rewards you can claim.
Please remember that loyalty points don't always necessarily mean the best prices, so always compare your prices.  To find out the real value of your loyalty points, you can use Money Saving Expert's Loyalty Checker.