Published: 01/12/2016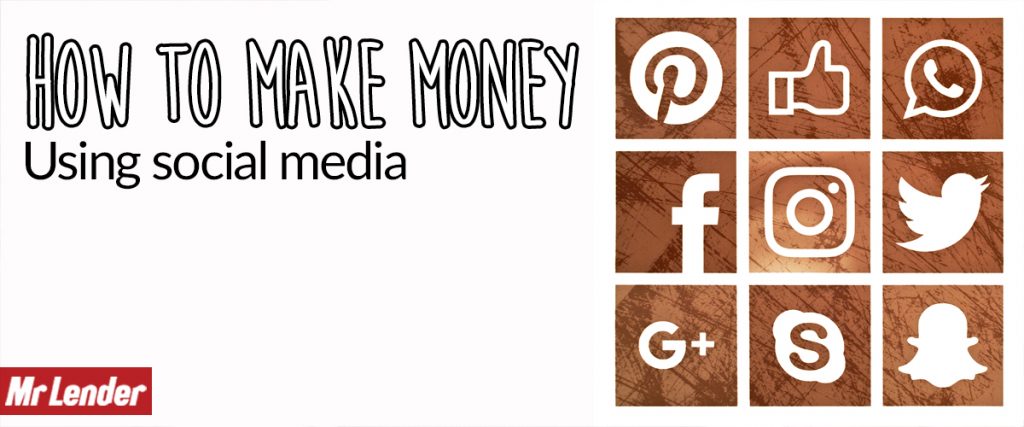 Social Media is a whole world at our fingertips.  We have access and can connect to a widespread cosmos of people and businesses that you would never have been able to reach before. People are now regularly becoming millionaires from social media and networks such as Facebook, Twitter, YouTube and Instagram. Here at Mr Lender, we've put together some ideas on how to use social media in a lucrative way.
Tune into your own channel
Join YouTube and create a channel. This can be a video on anything you can do, or teach someone else to do such as make up tutorials, weight/fitness training, changing a tyre, knit there are so many ideas. If you focus on a particular market you will create an audience and companies or brands will want to advertise on your channel, therefore making you some money for doing what you do best! All you need is a computer video or webcam, yourself and some great ideas. It's so easy even kids are doing it.
Be picture perfect
Be an Instagrammer – all the cool kids do it! Instagram has become a phenomenon even creating its own social media stars. It has over 100 million unique monthly users and over 300 million active users adding content on a daily basis.
Money can be made on it by setting up a business and selling items such as clothes or jewellery from the images. The priority is to get as many followers as possible and entice sponsors. To increase your following you need to post regularly and add keywords and relevant hashtags so you can be found easily. Imagery is also very important with Instagram. Pictures and images need to be attractive and creative. Behind the scenes and customer photos are a great way to engage with your audience if you are selling a product.  Successful Instagrammers could find themselves being sponsored by hugely influential brands or companies.
Get into the blogosphere
Creating a blog is easy these days with sites like WordPress and has been known to make people a good income. Create your blog around something specific such as motherhood, beauty or fashion and if your blog is successful people may start to pay you for advertising. Companies could collaborate with you and advertise on your site to get to their target audience.  If all goes well then maybe you can quit your day job and become a professional blogger!
Being social can pay off
Using Facebook to promote your business or sell goods is a great way to gain exposure. Facebook pages create a real and authentic presence for a public figure or brand. They are available to everyone and people can become fans of pages so they are updated regularly on its activity. You have the capacity to advertise your company and engage with potential customers, as long as you spend time cultivating your page by adding, sharing and posting on it. By creating a page of significance the offers of 'pays per post' may come your way and earnings can be made by sharing sponsored content.
Facebook groups are used for audiences that may share the same interest and passions. Justine Okin, creator of MY BEST PRODUCT EVER!  discovered this by chance when she came across a real find of a product and wanted to share it with everyone.
'The idea came from my mother telling me to get rid of any eye make-up removers and buy a £2.50 one from a well-known brand, which I did and loved it. I wanted to share it with everyone and couldn't think how. So I set up a little closed group on FACEBOOK added my friends and said – upload a photo and share the things you love, and it went mental!! Product recommendations from real people in real time, and a community of sharing, helping and caring members'.
From the success of the group Justine now has a showroom where people can view and purchase a selection of recommended products and after nine months of the group being created the MBPE webstore goes live TODAY, now people from all over the UK and internationally can shop. My Best Product Ever.
Be part of the Twitterati
Twitter is used by many businesses to keep in touch with their consumers. If you are good at marketing yourself, it is also a good way to make money from a personal account. Tweets need to be catchy and engaging to organically grow followers. If your Twitter account is particularly interesting to a certain market it can be used to become an affiliate marketer. Companies selling products through tweets mentioning the website would pay you a percentage of their sales, and you could earn a few extra pounds.
The best thing about social media is that any average Joe can do it.  Tools are supplied online and we can learn and teach ourselves. Although with all these platforms being convoluted with individuals trying to achieve success on them you must take time and effort to make it a passionate, driven and enticing page and focus on networking with the correct accounts.