Published: 01/12/2016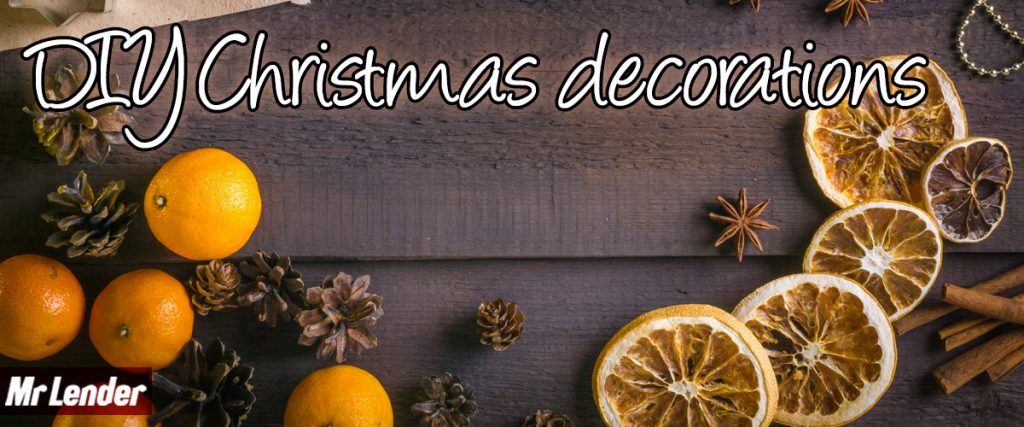 Believe it or not, Christmas is just 24 days away. Three weeks and three days to do any last minute shopping – or all of it if you haven't started yet. And if you haven't done so already, this weekend is officially Tree Dressing Day – the time to get your tree up, decorations out, and into the Christmas spirit. This day was made official in 1990 by the organisation, Common Ground, as a way of celebrating trees and the roles they play in the shaping of society.
So it is now time to get stuck in and wrestle the lights, laboriously check and change the bulbs, and give the angel a little clean. If your decs aren't looking on top form, don't splash the cash on more – get creative and make your own. At Mr Lender we have put together a list of 15 decorations to get your home ready for the big man in the red suit to make his appearance.
Jar candle holder
Save your empty jars – coffee, sauce, jam, anything will do –and add a little fake snow to the bottom. Fake, reusable snow can be bought from Tesco for just £6.99. Gently place a candle on top of the snow, and dot these jars around your home to create a magical winter scene.
Popcorn garland
Keep it traditional this year and make a popcorn garland for the tree. Microwave a few bags of popcorn, then carefully use a needle and a piece of cotton to thread the popcorn together to form a garland. Not only does it look great, but it tastes it too.
Embroidery hoops
Mini embroidery hoops are a great way to make expensive looking tree ornaments. Hoops can be found on eBay for as little as £1.74. Place a small piece of Christmas fabric inside the hoop, attach a piece of ribbon to the top, and hang on the tree. Alternatively, string them together to make a beautiful Christmas garland.
Butter cookie baubles
With candy canes and popcorn garlands already adorning the tree, why not make it even more delicious? Make a batch of Christmas cookies, with a small hole cut into the top. Thread some Christmas ribbon through the hole, hang on the tree and try not to eat them all at once.
Mini Christmas scene
If you still have any jars and snow left from the candle holders, make some mini Christmas scenes to sit alongside them. Buy 12 mini Christmas trees on eBay for just £1.10, and set them inside the jars on top of the snow. Add some tiny lego characters too to make an even better Christmas scene.
Mini wreaths
Shower curtain rings may not be your first port of call when you make your Christmas decorations – but stay with us on this one. With a shower curtain ring, green pipe cleaners, and mini ribbons, you can transform this simple every day object into a tiny Christmas wreath for the tree. Wrap the pipe cleaners around the hoop, then stick a little ribbon on the front of the wreath. These little decorations look adorable on the tree or strung together to make a garland.
Orange cloves
The smell of oranges and cloves wafting through the house just symbolises Christmas. Pierce an orange with cloves, wrap a piece of ribbon around it, and dot around the house or place on the Christmas tree. If you really like, you can also use these oranges and cloves to make some delicious mulled wine.
Dried orange slices
Another orangey alternative is to slice an orange into thin pieces, blot to dry, then place in the oven on a low heat to dry them out. Put your slices in bowls around the house and wait for the scent of Christmas to gently work its way through your home.
Scrabble ornaments
If your scrabble set is gathering dust in your cupboard, turn it into something useful this Christmas. Glue the scrabble letters together to form aChristmassy message. Attach a piece of string to hang on the tree, or put into a deep frame to hang in the wall.
Mini skis
Save your lolly sticks, and turn them into a mini set of skis. Paint the sticks a nice, bright colour, then glue a small piece of card to the sticks to make the boot binding. Place them on the tree as decorations or dot around the house as cute ornaments. They also look great on the front of Christmas cards if they're stuck on well enough.
Advent calendar
This one can be made as big or small, as cheap or expensive, as elaborate or as simple as you like. Collect 25 boxes of matching sizes (can be matchboxes, take away boxes, shoeboxes – any sort of box) decorate and number each one, then put a small gift in each box. You could also simply put clues in each box, which will lead to one final present on Christmas Day.
Martini glasses
Fill martini glasses with your Christmas sweetie treats – it looks nicer than keeping the sweets in their plastic boxes, and are far easier to access without the lids.
Ice block candle holder
Bring the ice and snow of Lapland to your home this Christmas. Cut a milk carton in half, full with water, and freeze. Place the ice blocks outside with a candle on top to create a wintry scene. Make blocks of varying sizes to make it that extra bit magical.
Baby Christmas socks
Baby's Christmas socks make for great tiny stockings. Matalan currently have a pack of three socks for £2.50 – that's six mini stockings for your tree.
Reindeer cellophane sweet bags
These sweet bags are great as Christmas gifts, or on the tree as little treats. Buy cellophane cone bags (100 for 99p on eBay) fill about half way with chocolate drinking powder, and top with mini marshmallows. Stick a pair of googly eyes and a red pompom to the front of the bag to make your little reindeer come to life.