Published: 21/07/2017

While booking a holiday is rather exciting, it can be costly and takes plenty of planning. From booking the hotel and accommodation, to finding restaurants and excursions within your budget – the costs of a holiday can all add up. Thankfully, we live in the age of the Smartphone and there is an app for just about everything. Take a look at this list from Mr Lender to find nine of the best travel apps to help you save money when out and about.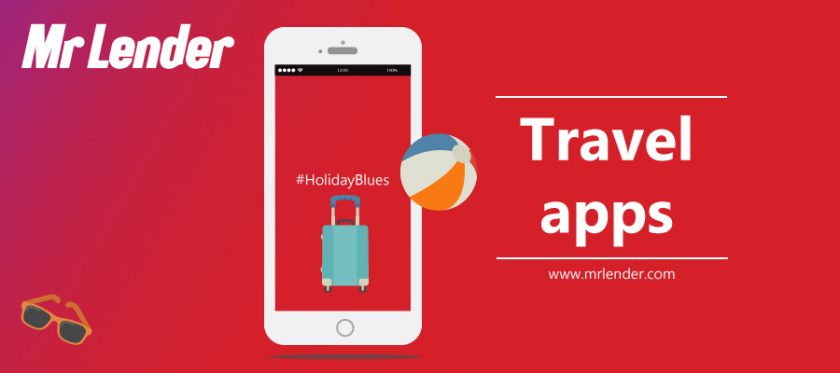 Fuelzee
Finding yourself stuck in the middle of nowhere without petrol is not where you want to be. Finding yourself stuck in the middle of nowhere with nothing but expensive petrol stations is almost equally as bad. By downloading Fuelzee you can be sure to avoid this situation altogether. Fuelzee finds the best fuel prices in your area or even at the destination you're heading to.
Fuelzee even lets you earn fuel rewards for reporting petrol and diesel prices, as well as enter daily contests where you could win food, cash and much more.
Urbanspoon
Finding cheap restaurants abroad can be a struggle – particularly in popular tourist destinations, though it certainly isn't impossible. Eating in family run restaurants away from attractions and sights is often the easiest way to get a cheap meal – or you can just download the Urbanspoon app. Urbanspoon lets you look for restaurants based on your budget. Simply input how much you're willing to spend, and let the app show you where is best to go.
Booking.com
Booking a hotel room is often one of the most expensive parts about planning a holiday. If you're a frequent traveller, the costs will soon add up. By downloading the booking.com app you can get access to exclusive offers and discounts, as well as the ability to earn 10% off future stays when you book five times.
Airbnb
Another way to find cheap accommodation is to book through Airbnb. Rent either a single room or a whole home for a fraction of the cost of a hotel. Airbnb operate in countries all around the world, so there are plenty of opportunities to explore. If you live in a popular destination and have a spare bedroom, you could even make money by listing your home on Airbnb.
There are also plenty of other travel apps to help you save money on your accommodation, such as Hostel World, Trivago, and Last Minute to name a few.
Uber
When visiting the big cities, you can usually get about using public transport alone. However, sometimes a cab is the only answer. If you're staying in London for example and miss the last train, the night bus is possibly the least appealing means of getting about. In this instance, you may want to consider getting an Uber. One of the great things about Uber, is the app is linked to your bank account – so you could still get home, even if you run out of cash and lose your bank card.
Hitlist
Timing is everything when it comes to booking a holiday. Depending on the time of booking, you could end up saving a great deal of money compared to if you waited and booked later on instead. Hitlist is an app that brings you the best deals and cheapest prices for holidays, based on a list of destinations chosen by you. Simply enter the destinations you want to visit, then let the app send you price alerts when great deals crop up. The app will also let you know when the best time of year is to travel to each of your chosen destinations.
Hopper
Another great price alert app is Hopper. Hopper lets you search for flights, before giving you a prediction as to when your flights will be at their cheapest. Once you've found the cheapest flights available, you can also book your flights directly through the app. Hopper claim their flight predictions are based on a 'huge historical archive of trillions of flight prices', and are 95% accurate.
Triposo
The final entry on our list of travel apps is Triposo. This app pulls together a whole range of information to help you build the perfect holiday. The app gathers information based on food, nightlife, sights, attractions, hotels, transport and much more. Triposo also works offline, so you won't need to use up precious data when you're out and about.