Published: 03/01/2017
Mr Lender has reached 20,000 customer reviews, and we couldn't thank you all enough. With 99% of you rating us 4-5 stars, it just goes to show how outstanding customer service really does make a difference.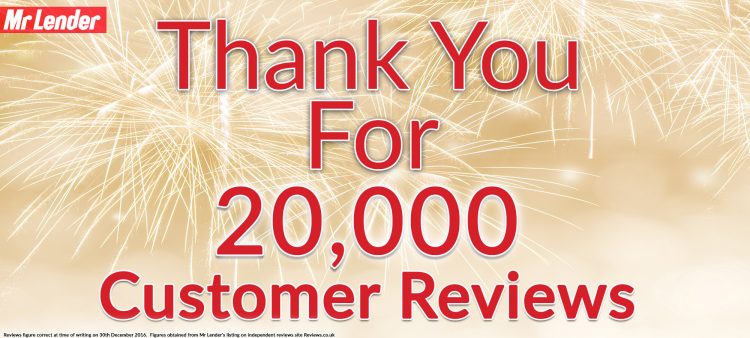 The customer is at the heart of everything we do here at Mr Lender, and by taking all of your comments on board we can continue to improve our services to provide the best possible experience for you. We strive to make the application process as clear and stress free as possible, and all of your reviews help to make this possible.
2016 has been a highly successful year for Mr Lender, after being fully authorised by the Financial Conduct Authority in February, winning several awards recognising us as leaders within the short term finance industry and now reaching 20,000 customer reviews.
Mr Lender were also shortlisted in March 2016 as a finalist in the category 'Best Alternative Lender – Short and Mid Term' at the Credit Today Awards 2016. To be shortlisted Mr Lender partook in a lengthy entry procedure where we had to show innovation and excellence in compliance and customer service.
In July 2016 Mr Lender was awarded both 'Customer Service Champion' and 'Best Short Term Loan Provider' at the Consumer Credit Awards by Smart Money People. The Consumer Credit Awards were launched for the first time in April 2016 as the first consumer credit awards decided on by the consumer. Consumers voted for over 3 months to determine which company they believed deserved the crown; the consumers choice made winning even more special for us at Mr Lender.
Here are a few of our customer reviews showing how our hard work truly does pay off. And once again, thank you!
"5* – Excellent communication, easy to use and didn't make me feel awkward about applying for a payday loan. Has taken a huge weight off my shoulders this Christmas period."

"5* – The guy who spoke to me regarding my loan application was just truly amazing! Normally I feel a bit ashamed of having to ask for money but this guy was awesome (shame I can't remember his name) but thank you all the same! Merry Christmas and again THANK YOU!! Quick application as well pretty straight forward….. very happy with the service :)"

"5* – Going through a very stressful personal situation and was unable to meet my repayments. Spoke to chat advisor Gary who helped make a repayment plan that was affordable and put my mind at rest. My five stars goes to Gary. Credit to the company."