Published: 26/04/2019

It's a time of anticipation in the Mr Lender offices, as we've been shortlisted for not one – but two – awards in the prestigious Credit Awards 2019!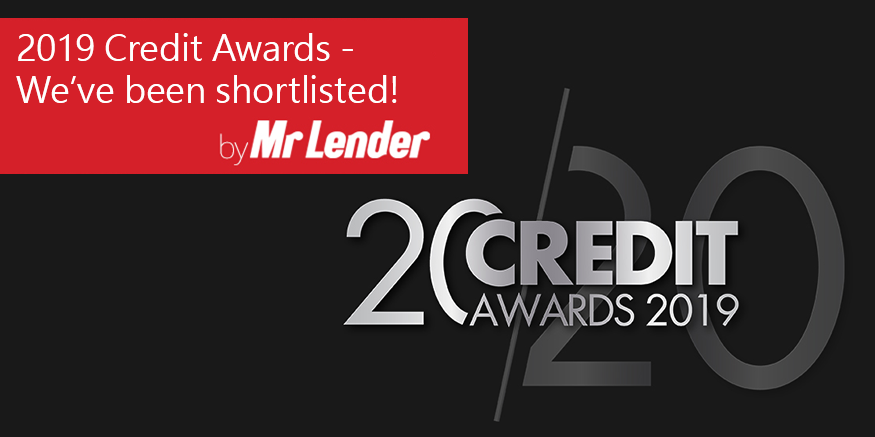 We're delighted to have been recognised as standing out amongst our peers by one of the industry's most respected awards programme – the Credit Awards 2019 – which prides itself on a vigorous shortlisting process.
We're in the running for Alternative Lender of the Year as well as Responsible Lender of the Year – so please wish us luck while the judges make their decisions!
Not only is the double nomination great news for us – but it's a reassurance to our customers that we are always looking out for them and we are striving to be the best lender we can be. After all, we have always said that here at Mr Lender we are proud of the fact that customers are at the heart of everything we do.
A little bit about us
Founded in 2009, we have since grown into a leading credit provider. Not only that, but over the last three years we have proven to be one of the most trusted lenders in the market with over 26,500 positive reviews on Reviews.co.uk and Trustpilot.com.
Mr Lender has already won awards for Best Short-Term Loan Provider 2016 and Customer Service Champion 2016, 2017 and 2018 at the UK's Consumer Credit Awards. So, we're extremely excited at the prospect of getting our hands on more trophies to add to our office mantelpiece!
About the awards
Credit Awards 2019 is marking its 20th year this year. The black-tie awards ceremony will be held at the Grosvenor House Hotel in London in May and hosted by funnyman Jimmy Carr. We can't wait to get dressed up and have a giggle while we wait to learn if we have won the top spot in either of our two categories. No matter the outcome, we are sure to have a brilliant night!
The award winners will be selected by an independent judging panel, made up of 23 industry 'titans' – including our very own Chief Executive Officer and Founder Adam Freeman – so being crowned winners really would make us proud.
We are also proud to sponsor the awards this year which continue to commemorate and reward excellence and innovation within credit industry.
Emily Nisbet, Managing Director at Mr Lender said "One of the greatest things about being a part of Mr Lender is working alongside people that really care about doing the right thing."
"Since I joined the team 8 and a half years ago the core values of treating our customers how we would like to be treated has remained at the centre of everything we do, which makes it even more of an achievement to on a daily basis witness the incredible reviews our customers leave us. In our 10th year of trading to be continually recognised not only by our customers but industry peers really is the icing on the cake".
What our customers say about us
"With Mr Lender it's one in a million… Thank you for being perfect Mr Lender."
"Excellent personal service…genuine people who listen to your circumstances and make a decision based on real life details rather than just letting a computer decide."
"Absolute pleasure, very professional, easy to talk to and was very quick and efficient. Highly recommended."
"Very easy to use, they are prompt and efficient."
Please keep your fingers crossed for us over the next few weeks, and we will report back on the outcome following the ceremony!