Published: 18/07/2017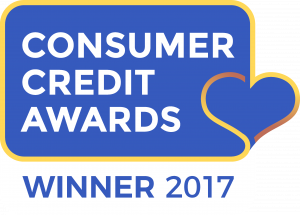 We've done it! We're delighted to have been crowned 'Customer Service Champion' at the Consumer Credit Awards 2017, and it's all down to our customers. Mr Lender is already a highly respected direct lender in the High Cost Short Term Credit (HCSTC) industry, after winning two awards in last year's Consumer Credit Awards, and also becoming a finalist in the 2015 Credit Today Awards. We have managed to receive more than 21,500* reviews on an independent review website – 99% of which are rated 4-5 stars.
The awards are run by Smart Money People, and are voted for by consumers and consumers alone, so we're particularly delighted to be recognised as a leading consumer credit business that puts customers at its heart.
Our win was announced at an awards ceremony at the Lansdowne Club in Mayfair, London, in front of some of the biggest consumer credit firms in the UK. The evening was hosted by Mock the Week regular, Gary Delaney, and we're still over the moon that we were able to attend and take home an award.
The founder of Smart Money People, Mike Fotis, said, "I'd like to congratulate Mr Lender for taking home one of our overall awards this year. To win 'Customer Service Champion' against a field that includes an A-Z of leading consumer credit firms, from Amigo to Zopa and Zuto, is truly impressive. I hope that all the team at Mr Lender are proud of this award."
About the Consumer Credit Awards
The Consumer Credit Awards use the power of consumer voting to find the best consumer credit companies in the UK. Customers, not industry experts, decide these awards, so we're particularly thankful that our customers took part.
The Consumer Credit Awards have become the largest consumer-voted awards programme within the consumer credit industry, and has helped to put the customer at the very heart of things. This is one of many reasons why we're so grateful to win an award.
Awards were handed out in fifteen categories, ranging from "Best Personal Loan Provider" and "Best Newcomer." Thanks to press and promotion, over 2 million UK consumers are likely to come across the Consumer Credit Awards in 2017.
The Consumer Credit Awards 2017 in numbers
27,218 consumer votes submitted
137 companies in the mix
15 awards
The #1 consumer voted-for awards within the credit industry
*Review figures obtained from Reviews.co.uk and are accurate at time of writing on 18th July 2017.