Published: 01/07/2019
At Mr Lender, we offer short term loans between £200-£1,000.

Eating out can be a real treat – but it doesn't have to break the bank. There are a whole host of penny-pinching ways which can ensure you dine out more without that side order of guilt.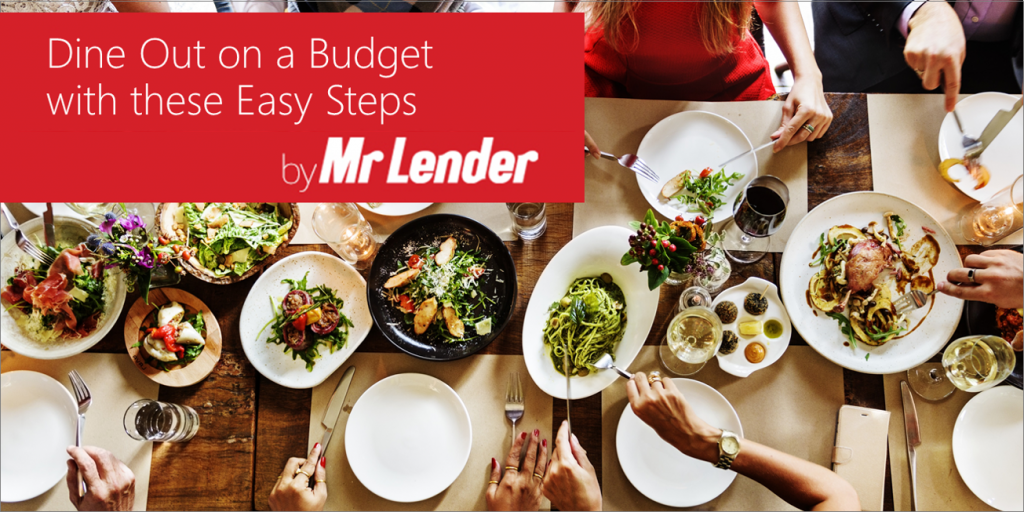 There's no need to punish yourself with beans on toast for a week to make up for enjoying a meal out with your favourites. Here at Mr Lender, we've put together some top tips to help you indulge on-the-cheap:
Search Restaurant Vouchers
Lots of restaurants and cafes offer promotional vouchers that you can find online. Search online before you choose where to dine, and also have a look in newspapers for any offers. VoucherCodes, Opentable, Plate-Deals and VoucherCloud are good places to try.
Sign up for Loyalty Cards
You don't have to eat out regularly to join a dining club and make savings. You can save up to 50% by becoming a member of a loyalty scheme. Tastecard offers two for one deals at more than 6,000 restaurants and right now you can try it out for just £1 for 90 days – with annual membership reduced to £34.99 from £79.99 for a limited time. It's worth checking which restaurants participate before signing up, just to make sure there are enough that you are keen on in your area taking part to make it worthwhile.
Opt for Tap Water
Despite the recent controversy, establishments that serve alcohol are required by law to give customers free tap water. Some restaurants charge as much as £3.50 for bottled water, so you shouldn't worry about asking for a jug of tap water for the table instead.
BYOB
Some restaurants and cafes offer the option of bringing along your own bottle of alcohol to enjoy with your meal, which can save you a great deal of cash. Some charge a small corkage fee, but if you're picking up a bottle of wine at a supermarket for £5 instead of paying at least £15 for a house bottle of wine, you'll still be laughing all the way to the bank.
Ask for a Doggy Bag
It's the norm in America, so why are we so shy about asking for doggy bags in the UK? You've paid for the food – if you can't finish it all in one sitting then why shouldn't you save the rest for when you get peckish again at home or the next day? You eat your leftovers when you cook for yourself, and this is the same principle.
Dine Out Off-Peak
Look out for pre or post theatre menus – they're often cheaper than what's on offer during peak hours.
Make Friends with your Favourite Restaurants
If you don't mind the extra mail in your inbox, then it's worth joining chain restaurants' clubs and mailing lists. You'll be sent their latest offers direct to save you searching online. You can also get involved with your favourite eateries on Facebook and Twitter to make sure you never miss out on special offers.
Mr Lender is a multi-award winning lender and is rated five stars on Trustpilot by customer reviews. So why would you choose anyone else for your short term loans?