Published: 22/12/2016

Schools across the country are breaking up for Christmas this week and the challenge of keeping the kids entertained over the festive period is imminently on parents' minds.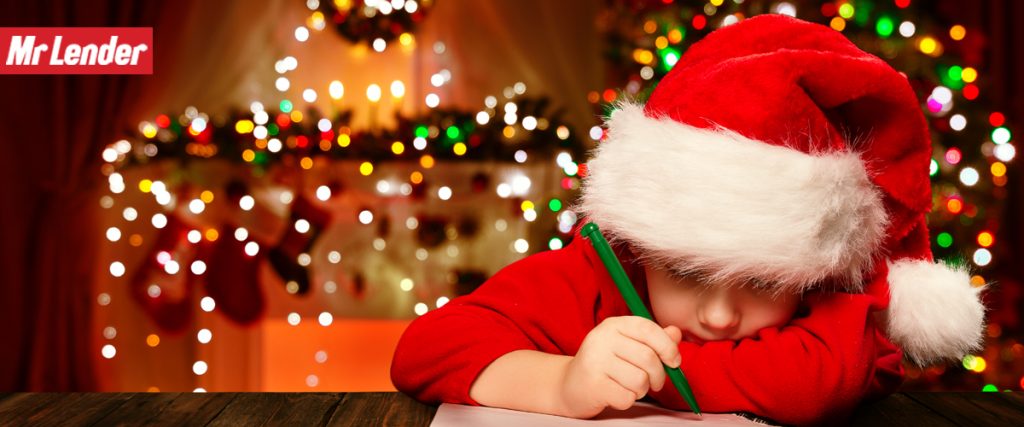 If the excitement of the new toys and gifts doesn't last long enough after Christmas day, switch yourself into survival mode and take a look at some alternative ideas from Mr Lender that don't break the bank.
Have a Clear-out
Clearing out your children's old toys with them will be fulfilling and a worthwhile task. It will kill a few hours as well as making room for the new ones. Donating them to charity will show your children how to do something good for children less fortunate than them, a small task that entertains for a few hours and teaches a life lesson! Winning!
Go to the Movies
Special deals are on at most Cinema chains to cater for all the family:
Movies for Juniors are discounted weekly screenings of kid's films at Cineworld Cinemas. From just £2.00 (only £3.50 for 3D!)
Vue Cinemas has Mini Mornings showings give both adults and kids the chance to experience big screen entertainment for a very small price. Sessions are run every Saturday and Sunday morning from 10am. The £2.49 ticket price is for both adults and kids per ticket.
Odeon Kids value tickets are from just £2.50 for some screenings. 
Scavenger Hunt
Make a Christmas scavenger hunt with anything Christmassy such as gift tags, snowmen, Santa figures, chocolate coins. This will keep the little darlings busy for a while maybe even long enough to have a cuppa! And even better why not make them do it with a torch and no lights on to make it more of an adventure for them.
Arts & Crafts
Hit your local Hobbycraft or even Poundland and pick up some bits to keep them occupied. Paint your own piggy bank  is included in a 3 for 2 deal along with 3D Wooden puzzles and Mache Shapes. Stock up and you always have something to fall back on.
Days Out:
London is full of exciting places for children, and even the excitement of travelling by train will be enough for them. Days Out Guide features deals and 2 for 1 offers when you travel by train. The Science Museum is a great destination for all the family. The museum is laid out across 4 fully accessible floors all bursting with scientific wonder and discovery, featuring hands-on and interactive technology to inspire and enlighten visitors of all ages!
Stay Local:
What's On Guides, Local Councils, Libraries and Local Magazines will let you know what going on in your area. There may be activities to join, shows, Pantomimes or local farms.
Venture afar:
The National Trust promotes family harmony with a refreshing winter walk. More popular then other festive activities such as watching TV. They've pulled together '12 Walks of Christmas', so everyone can get outside and enjoy the season together: 12 Walks of Christmas
Get Your Skates On:
Visit some of London's great Ice Skating venues for a fun family day out,
Somerset House, London. Open until Sun 15 Jan, £10.65 for children (£9 plus £1.65 booking fee) or £19.35 for adults (£17 plus £2.35 booking fee). See Somerset House for more information.
Hyde Park, London. Includes an ice rink (from £34 per family), magical ice kingdom (from £23 per family) and a giant wheel (from £23 per family) See Hyde Park Winter Wonderland for details.
Van Hage, Great Amwell There are many different skating sessions on offer including 6Skate, Parent & Toddler, Special Needs.
If all this fun tickles your appetite here are some places that Kids Eat 'Free' as I'm sure you are familiar with the cries of 'I'm Hungry':
La Tasca
Get a free kids' (8 and under) main meal when one adult spends £10 or more. See La Tasca Deals.
One free kid's meal per £10 spent per adult. Sundays only. There's eight restaurants around London.
Kids eat free at lunchtimes with an accompanying paying adult.
Trip down The Strand with your little ones on the weekend for a free treat at Smollensky's where kids can choose from free burgers, goujons or pasta before 7pm on Saturday or Sunday when accompanied by a paying adult.
Enjoy the family time, remember they grow up too fast!