Published: 28/11/2016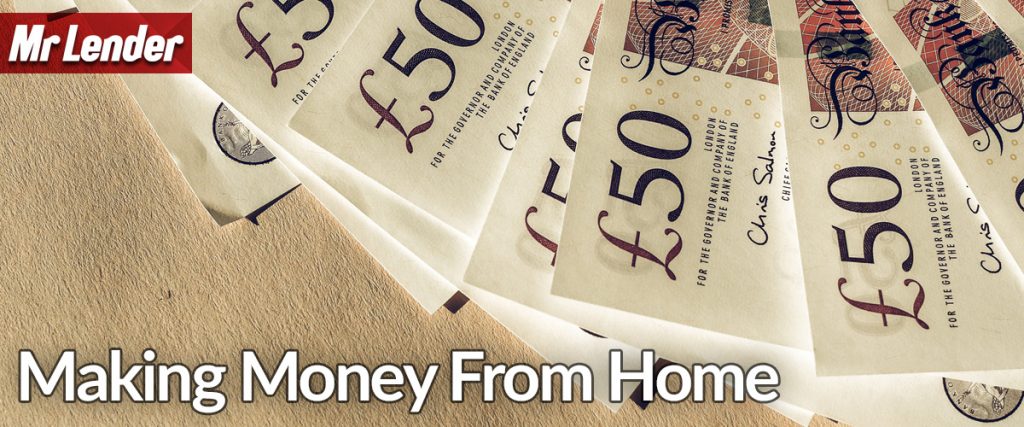 With Christmas fast-approaching and the financial uncertainty surrounding Brexit a lot of people are looking for ways to bring a bit of extra cash in to help ease the insecurity floating around their bank balance.
There was some reassurance to be had from the Autumn Statement (a summary of how it could affect you can be found here) – but here at Mr Lender we thought we'd put together some top tips for accumulating a bit of extra pocket money. The great thing is, they can all be carried out from the comfort of your own home – so you don't even have to brave the cold to top up your bank balance!
Rent Out Your Driveway:
This can net you big cash for hardly any work – especially if you live near a city centre, train station, airport or sports ground. Even if you don't, it's worth investigating as the chances are there's someone in need of the security of a fixed parking spot near you.
Nearly all the sites you can use are free to list on, so there's nothing to lose from seeing what interest is out there.
Your Parking Space, Park On My Drive, and Just Park are good places to start. But be careful; a few people have come into trouble with local councils over planning permission rules when renting out parking spaces – so make sure you do a quick check to make sure you're in the clear before going ahead. Local authorities have been urged to relax their rules, and there's a handy check list with advice here.
Share Your Opinions:
When stories turn up in the papers boasting stats about the percentage of Londoners who've cheated on their partner or how many men wash their hands after going to the toilet, have you ever wondered where those figures have actually come from? The likelihood is the people sharing the info put out a survey on YouGov; the international market research company.
It's easy to get involved – all you have to do is sign up on their website, let them know a little bit about yourself, your interests and your views. They'll email you regular invites to take part in online surveys and you'll even get an email to let you know when something you've answered a question on makes the news. The surveys can take up to ten minutes to complete and they're always anonymous. There are serious topics like politics and social issues, but some of the surveys can be fun; current topics include whether a tarantula is an acceptable office pet and how often you wear your underwear before washing it!
Typically you'll earn 50 points per survey, which you can redeem in their lottery with thousands of pounds to be won every month – or you can save up to get £50 once you reach 5,000 points. We signed up and earned 100 points just for answering some basic questions about our lives and what we're interested in.
Annelies Paris, who blogs about saving money is a dab hand at online surveys and rates YouGov above others she's tried. She says: "I can safely say the YouGov surveys are a lot better than others in the sense that they reward points generously and their surveys are of reasonable length. How much money you could make in a month depends on how dedicated you are to filling them out and how many you're eligible for."
So get involved if you have some spare time on your hands!
Sell Your Old Stuff on eBay:
Take a few hours out to declutter – and get some income from that dress you bought on a whim and have never worn, the to-die-for shoes that look great but rip your feet to shreds and the ghastly ornament your gran bought you for Christmas; you always go to visit her so she'll never notice it's missing.
Put together a profile on eBay and get selling – because one man's trash is another man's treasure!
Sell Your Story:
If you've ever been talking about something that's happened to you and the person listening has stood open-mouthed in shock, chances are it's a tale a newspaper or magazine would love to feature. Or maybe you've read a story in a magazine and thought: that could be me?
It could be anything – from a run-in with a love rat to impressive weight loss, or even a health condition you want to raise awareness of. The best way to find out if your experience is worth anything is to chat to someone in the industry and see what they think – with no obligation. You can fill out a form at Help Sell Stories and someone will get in touch if they think your story has legs. You could make anything from £50 to £2,000 – all for a chat on the phone!