Published: 12/01/2018


Over the last few years, a lot of focus has been set on bringing mental health issues to the forefront of people's attention. Everyone from Selena Gomez and Cara Delevingne to Princes William and Harry have opened up about their own experiences with mental health. As the subject becomes more and more talked about, it's important to take note of how mental illness affects us on a personal level and what we can do to combat it. At Mr Lender, we looked into how mental health issues can impact on our work life, and what steps employers are taking to help improve the mental wellbeing of their employees.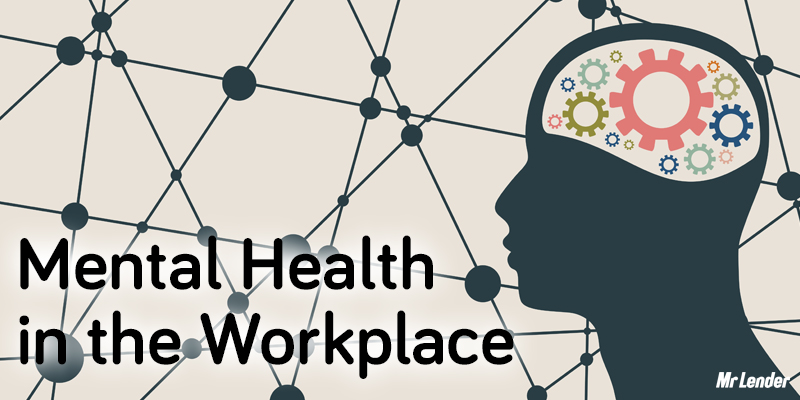 Mental health in the workplace
In previous years, employers have taken steps to improve the physical wellbeing of their employees by introducing discounts on gym memberships, healthy food in the canteens, and free medical checks. Now, some employers are focusing on the mental wellbeing of their employees too. While it's hugely beneficial to staff if employers focus on alleviating stress and improving their mental health, it's incredibly beneficial to employers too as reports have shown that improving the mental heath of staff leads to increased productivity.
According to Business Healthy, the number of work days lost due to anxiety, stress and depression rose by 24% in the UK between 2009 and 2013. They say that employees taking days off sick due to these illnesses costs the economy £8.4billion each year. A reduction in productivity caused by mental illness costs a further £15.1billion, and the cost of finding replacements for staff who leave due to mental illness costs another £2.4billion – bringing the total to over £25billion each year.
The latest Britain's Healthiest Workplace survey has reportedly found that 73% of employees surveyed have at least one form of work-related stress, while 41% have two or more and 20% have three or more. Another study also found that only 40% of employees will disclose information about their mental health to an employer.
The study also reportedly found that around 50% of employees surveyed said the root cause of their stress was unrealistic time pressure and demands. A further 31% said their stress was due to not being consulted about changes in the workplace, and 27% said their stress was due to having a lack of control over their work. Chief Executive of LifeWorks, Jamie True, states that employees feel better when their work is acknowledged. He said "typically, employees who feel valued and enriched by their employers will be more productive and suffer less stress."
What's being done about it?
There are already lots of established companies making steps to improve the wellbeing of their employees, and many more following suit. PricewaterhouseCoopers (PwC) has appointed a mental health leader within the company, and Law firm, Hogan Lovells, has introduced an in-house counsellor who employees are able to book appointments with directly and without going through their manager or HR Department.
Simply encouraging staff to open up and talk about how they're feeling in a safe and confidential environment is a step in the right direction towards improving the mental wellbeing of staff in the workplace.
MentalHealth.org said that "introducing a workplace intervention in the form of an employee screening and care management for those living with (or at risk of) depression was estimated to cost £30.90 per employee for assessment, and a further £240,000 for the use of CBT to manage the problem, in 2009.
"According to an economic model, in a company of 500 employees where two thirds are offered and accept the treatment, an investment of £20,676 will result in a net profit of around £83,278 over a two year period."
If an employer is unsure as to where to begin in taking steps towards improving the mental wellbeing of their staff, Acas offer guidance and support for both employers and managers in a range of different areas, including:
Promoting positive mental health in the workplace
Managing staff experiencing mental ill health
Dealing with stress and anxiety in the workplace
They also offer training sessions for employers across the country to help raise awareness of how to support employees with mental health conditions. They have a whole list of events on their website where employers can book sessions close to them.
What can you do?
If you're suffering from a mental health condition, there is a whole range of advice and support available to help you. Mental health charity, Mind, have a variety of resources on their website to help cope with the stresses of living with a mental illness, including advice on how our diets can impact on our mental health, how important sleep is in combatting mental health issues, and tips and exercises to help you relax. There is also a link to information on there for how carers, family and friends can support someone living with a mental health condition, as well as information on how to cope with work in general, and working in specific fields such as the ambulance, fire and police services.
Whatever you choose to do, it's vital that you seek help and get the advice and support needed to help get you back to being you. There are also plenty of helplines that you can turn to if you ever need them – here are just a small few:
Anxiety UK – 08444 775 774
Mind –   0300 123 3393
No Panic – 0844 967 4848
OCD UK – 0845 120 3778
Samaritans – 116 123
For more information and to see a fuller list of other helplines available, visit NHS.uk.