Published: 14/12/2016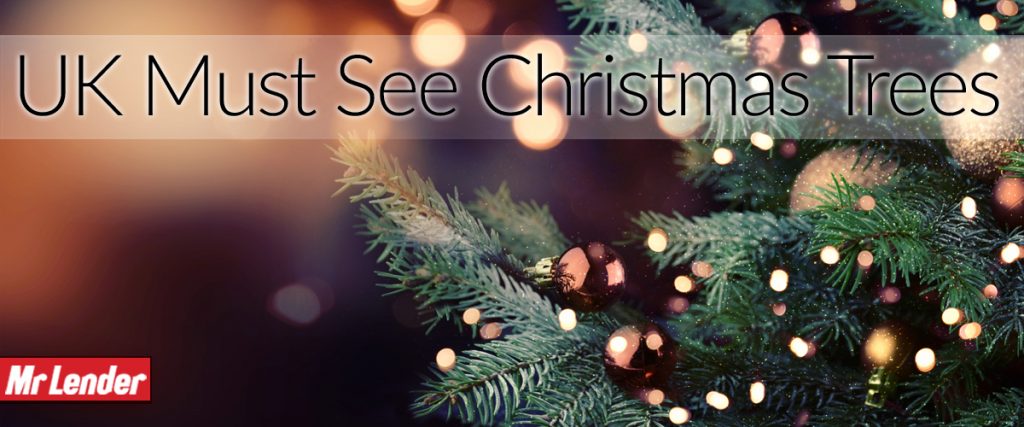 Christmas is just around the corner, and what better way to kick off the Christmas celebrations than to gather the family, drink a mulled wine or four, and visit some of the best Christmas trees the United Kingdom has to offer. Whether they're real, fake, metal, plastic – there are plenty of magnificent trees up and down the country which are certainly dressed to impress (yours may be one of them) so Mr Lender, a UK based short term loan provider, has put together a list of ten of the best for you to visit.
The twinkling lights of the big city are always made that little bit more special at Christmas time. The 72 foot tree is covered in strings of lights, containing 770 lightbulbs. Since 1947, the Trafalgar Square Christmas tree has been shipped over from Norway as a present from the people, as a way of showing appreciation for all Britain's help during WWII.
Merseyside
Cheshire Oaks Designer Outlet will play host this year to Europe's tallest walk-in Christmas tree. Guests can walk inside the tree where they can experience the Christmas lights from a slightly different perspective, and admire the marvellous Christmas scene on display. The 18-tonne tree stands at an enormous 90ft high, and is covered in more than five miles of fairy lights.
York's Winter Wonderland is home to the city's 30ft Christmas tree this year, as well as the North of England's largest outdoor ice rink to make the trip that extra bit special. The winter festival will be held at the York Designer Outlet so there will be plenty of opportunity to do some last minute Christmas shopping while you're there.
Leeds Trinity Shopping Centre is home to the UK's only Kissing Tree, which illuminates when two people kiss underneath it. More than 25,000 Christmas lights cover the 66ft tree, and as two people kiss, their lips complete a circuit which lights up the display.
If one Christmas tree is just not enough to satisfy your festive appetite, head to Edinburgh where there will be a Christmas tree maze for all the family to get involved in. Santa Land, a festive family-friendly event held in East Princes Street Gardens, also has plenty more entertainment for the family, including a Santa Train, reindeer rides, a rollercoaster and a carousel.
Just like Trafalgar Square, the Aberdeen Christmas tree was also a gift, sent over from Norway. The spruce was given to Aberdeen by their twin town in Norway, Stavanger, and has been decorated with thousands of twinkling fairy light.
Cardiff's Christmas tree was also shipped over, all the way from China. The 40ft tree is made up of thousands of golden baubles, and currently resides outside Cardiff castle. It has gained a mixed reaction from the locals, but one thing is for sure – it is a spectacular and unusual tree, definitely a must see.
One thing you probably wasn't expecting to see this year, was an underwater Christmas tree. Sea Life Birmingham has got everyone involved in the Christmas celebrations this year with their underwater Christmas trees. There is also an Antarctic grotto where kids can go and meet Father Christmas himself.
The town of lights and illuminations had a lot to live up to with their Christmas lights, but they managed to pull it off! The tree, situated in front of Blackpool tower, is made up of a series of white, magical, sparkly orbs. The tower itself will also be lit during the festivities, adding to the magic of Christmas.
Around 10,000 people showed up for the light switch on in Belfast last month, as Belfast City Hall was lit up in the colours of the rainbow. The traditional Christmas tree isn't quite as extravagant as some of the others which have been mentioned, but the simplicity and beauty of the tree make for a magical viewing.