Published: 15/12/2016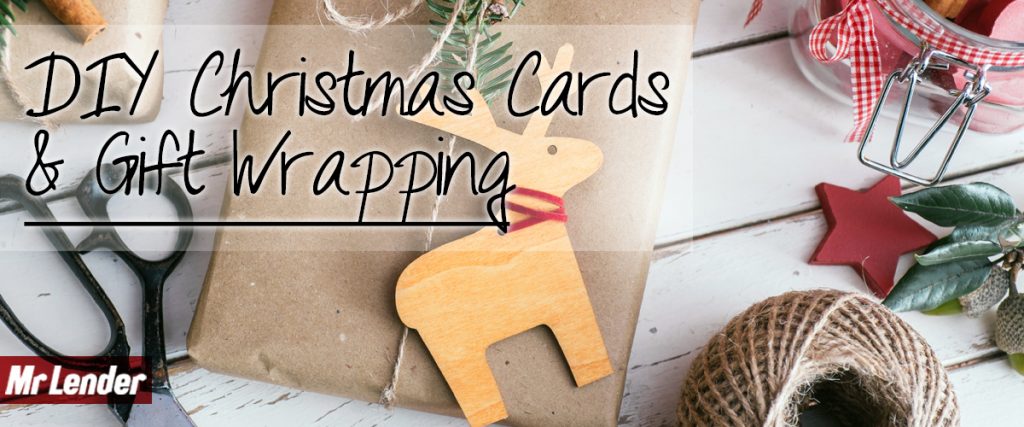 Every year, billions of pounds are spent on gift wrap and Christmas cards – a vast majority of which will very quickly find its way to the bin. And, no doubt, you will still run out of paper on Christmas Eve, scouring the cupboards for anything but carrier bags and newspaper. Whether you're thinking of the environment, or you've run out of wrapping paper and Christmas cards, Mr Lender (a UK based short term loan provider) has got you covered with this list of 10 perfectly presentable DIY Christmas cards and wrapping paper.
Children's drawings
If your little Picasso is bringing home too many masterpieces for you to handle (or if you're simply running out of magnets on the fridge) turn the children's paintings into Christmas cards for the family. They will certainly be appreciated far more.
Potato stamps
Another one for the kids – the classic potato stamp. Cut festive shapes into the potato, dip in paint and let the kids stamp it all over some brown paper. Not only is this a great way to keep the kids entertained over the school holidays, but your Christmas presents will look extra special this year.
Brown paper and string
To keep things a little more simple and stylish, switch the potato for some string. Plain brown paper and some twine will give your presents a classic, simple look that will certainly stand out under the tree.
Cellophane wrapper
It is almost guaranteed that you will find yourself struggling to wrap an awkwardly shaped present. The paper will just not sit right, holes and tears will start to appear, and the bow will not sit flat. Avoid the hassle and use some cellophane wrap instead. Simply sit the present in the centre of the cellophane, and bunch it up around the top, securing with a pretty Christmas ribbon.
Headscarf and ribbon
Another easy way to wrap a tricky gift, is using a scarf and ribbon. A large square scarf works best, and can be bought cheap at most markets including Spitalfields Market in London (one stall has hundreds of scarves on offer, all for £1).
Family photo
Take a festive family photo, and turn it into a Christmas card this year. Print a photo for just 5p a print in Tesco, then stick the picture to the front of a card. A cheap, easy way to make a unique, memorable Christmas card.
Polaroid on a card
Another homemade family Christmas card idea, is to use a Polaroid camera and a mini peg. Superglue a mini peg to the front of a card (the cards mentioned in number 6 will work perfectly) then attach your Polaroid photo to the peg. Voila.
Old Christmas cards
Recycle your old Christmas cards, and redesign new ones. Cut out designs from your old cards, and rearrange to make a festive Christmas card to remember. You can also use the old cards to make unique gift tags for your presents.
Reusing ribbon
Save the ribbon from your Christmas presents, and keep them for next year. Smaller ribbons can be tied in a bow and stuck to the front of a Christmas card, while longer ones can be reused on Christmas presents.
An old map and ribbon
And finally, a quirky, unique gift wrap idea which is certainly going to impress. Save an old map and use this to wrap your presents. Finish with a beautiful ribbon, and wait for the compliments to roll in. There won't be a present more beautiful under the tree this year.