Published: 08/12/2016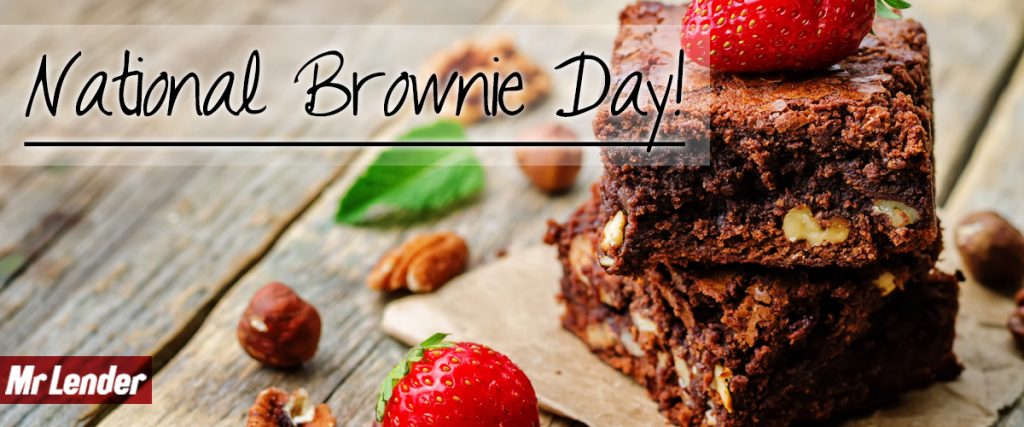 It's National Brownie Day! And what better way to celebrate than with a batch of Christmas brownies. Warm, gooey, chocolatey goodness, full of a whole variety of different festive fruits and spices. Mr Lender, a UK based short term loan provider, has put together ten must-try recipes to celebrate National Brownie Day.
These dark and white chocolate brownies with raspberry pieces are sure to impress your guests at your Christmas parties this year. Dust with plenty of icing sugar to have them looking the part. This recipe makes 24 brownies, and if you somehow have any treats left, they will keep for up to three months in the freezer.
There are very few foods that symbolise Christmas more than cranberries, pecans and mixed spices. This brownie recipe also has a dash of brandy and dark chocolate. Whip up a batch of 24 in under an hour.
It's all in the decoration with this recipe. Buy Betty Crocker's brownie mix from Tesco (there are a whole range of different flavours – any will do!) and simply decorate to look like mini chocolatey Christmas trees. In just under three hours, 15 brownies will be ready to enjoy.
Why choose between mince pies and brownies when you can have both. Made using mincemeat, dark chocolate, cocoa and vanilla, these brownies will satisfy each and every one of your Christmas cravings. It takes 55 minutes to make 15-18 of these brownies.
These gooey, dark chocolate brownies, are full of sour cherries and mixed nuts – making them that little bit more special. Enjoy them while they're warm with a glass of mulled wine and a Christmas film on the telly. It takes 40 minutes to make 20 of these little sweet treats.
Stir up the smell of Christmas with cloves, cinnamon and crushed cardamom in this brownie recipe. With just four steps, these brownies are suitable for even those with barely any baking experience. The recipe makes 16-20 brownies in under an hour.
This brownie recipe also uses cinnamon, but with vanilla and chocolate chips for an extra bit of luxury. There is also a vanilla frosting recipe to give the brownies a snowy, Christmassy look. This recipe makes a whopping 36 brownies in just under an hour.
Who doesn't love receiving a chocolate orange at Christmas? Instead of scoffing it down in one sitting, save it for special brownies that will certainly take this chocolate to another level. Make 16 good-sized brownies with this recipe (though you can of course, no one is saying you need to share.)
After Eight mints tend to only make an appearance at Christmas – so make the most of them! These brownies will be ready to munch in 50 minutes, all 30 of them. But remember to put a few After Eights aside to enjoy during a Christmas Day telly binge.
Chocolate fudge brownies, topped with Ferrero Rocher pieces, with Disaronno running through for extra Christmassy goodness. Yum. An hour is all that is needed to make 16 of these brownies.