Published: 09/12/2016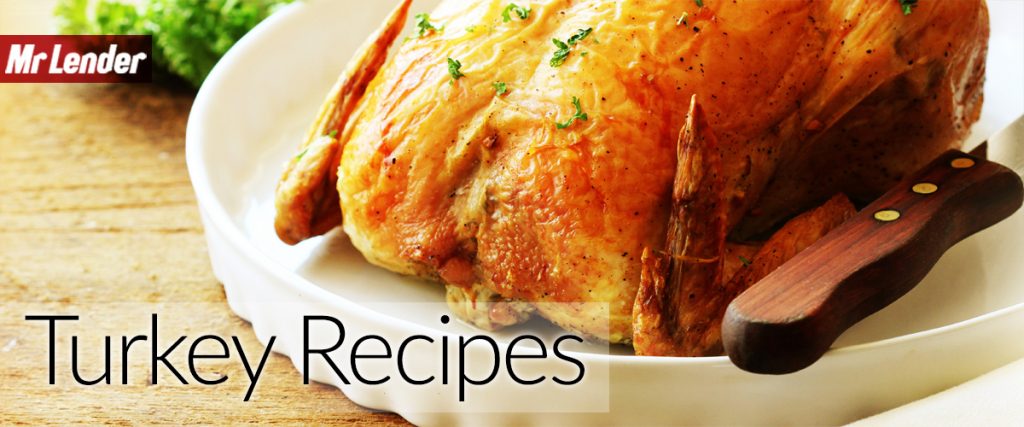 Are you the designated chef for Christmas dinner this year? If so you may be happy to read some alternative recipes so your turkey isn't the same old bird as last year.
Gobble up our top five unconventional Turkey recipes searched out by Mr Lender.
TURKEY BREAST STUFFED WITH ITALIAN SAUSAGE AND MARSALA-STEEPED CRANBERRIES
Serves: 12
Ingredients:
In preparation, from the butcher you will need to get a whole breast joint and you need to ask for it to be butterflied and boned and make sure the skin is left on.
Stuffing Ingredients:
100 grams dried cranberries
100 milliliters marsala
2 tablespoons
2 echelon shallots or banana shallots (peeled and finely chopped)
¼ teaspoon ground cloves
½ teaspoon ground allspice
2 teaspoons chopped fresh sage
kilogram Italian sausages
2 large eggs (beaten)
approx. 50 grams grated parmesan
approx. 60 grams breadcrumbs
Turkey Joint Ingredients:
1 x 5 kilograms double breast turkey joint (boned, butterflied, with skin left on)
4 tablespoons goose fat (or duck fat)
Directions:
Put the cranberries and Marsala into a small saucepan and bring to a boil, then take off the heat and leave to one side.
Put the oil into a large frying pan or similar heavy-based pan, and fry the shallots for a minute or so, then add the spices and shredded sage, turning them in the soft shallots.
Squeeze the sausage meat out of its skins, add to the pan and break it up – using a wooden fork and spatula for ease – turning it in the hot pan until it loses its pinkness. This will take about 5 minutes.
Take the frying pan off the heat and turn the contents into a large bowl, mixing in the steeped cranberries and any Marsala clinging to them, and leave to cool. You can cover with cling film and put in the fridge for up to 2 days at this stage.
When you are ready to stuff the turkey breast, take the bowl of sausage meat out of the fridge.
Preheat the oven to 200°C/gas mark 6/400ºF.
Uncover the bowl of sausage meat, add the eggs, Parmesan and breadcrumbs and – Use hands for this – mix well.
Lay the butterflied turkey joint out in front of you. Spread the stuffing out first in the slight cavity in the centre of the butterfly and then outwards onto the wings though not going right up to the edge (or it will squirt out when cooking) but as evenly as possible over the whole joint.
Carefully, in one swift but steady movement, fold one "wing" over the other to close the joint, and then sit the turkey on a large roasting tin, breast bone (or where the breast bone would be) uppermost as it would look were it the whole bird, with the pointier bit furthest away from you. Thread 2 skewers through the base – i.e., the widest part that is nearer you– to keep it closed, and smear it all over with the duck or goose fat.
Roast the turkey breast for 2–2½ hours, then check it is cooked with a turkey or meat thermometer. When cooked, it should read 75°C / 165ºF in the centre. (If you're leaving it to rest, as you should, or to cool, you could take it out at 73°C / 160ºF – it will retain heat and continue to cook for a short while once out of the oven).
Flex your muscles, then lift out onto a carving board, and leave to rest for at least 20 minutes. Or leave to get cold if you are eating it as part of a cook-ahead buffet.
Cut through the whole joint in wide slices right across; they will need to be quite thick, at least 1 cm / ½ inch maybe 2 cm / 1 inch, to keep the stuffing intact within the slice.
Serve and present as you wish.
Courtesy of www.nigella.com and featured in Nigellissima
BEER CAN TURKEY
Booze and Birds with Beer Can Turkey. Steam-infuse your bird with beer.
Serves: 10-12
Ingredients:
12 to 24 ounces beer (in a can if using a beer-can turkey stand)
2 teaspoons spicy mustard powder
1/2 teaspoon garlic powder
1 teaspoon dried chopped onion
1 teaspoon smoked Spanish paprika
1 teaspoon granulated garlic
1/2 teaspoon ground smoked cumin
Kosher salt and freshly ground pepper
1 9 -to-10-pound turkey (thawed if frozen)
1/4 cup canola oil
Directions:
Preheat a grill to medium (about 350 degrees F) on one side. Pour the beer into a turkey sitter (a ceramic stand that holds liquid). Or open the beer can, pour out a few tablespoons and place in a beer-can turkey stand.
Combine the mustard powder, garlic powder, dried onion, paprika, granulated garlic, cumin, and salt and pepper to taste in a small bowl.
Remove the neck, giblets and any excess fat from the turkey; discard. Rinse the turkey under cold water and pat dry with paper towels. Rub the cavity with 2 to 3 teaspoons of the spice mixture. Brush the outside of the turkey with the canola oil and place drumstick-end down on the sitter or stand. Rub the remaining spice mixture all over the turkey.
Place the turkey (on the sitter or stand) on the cooler side of the grill. Cover and cook until the juices run clear and a thermometer inserted into the thickest part of the thigh registers 185 degrees F and 170 degrees F in the breast, 2 to 3 hours. Carefully remove the turkey from the grill, remove from the sitter or stand, and discard the beer. Transfer the turkey to a cutting board and let rest at least 20 minutes before carving.
Recipe courtesy of Cat Cora for Food Network Magazine
GET FRUITY WITH YOUR BIRD –  SAGE AND APPLE TURKEY
Serves: 8-10
Ingredients for the turkey:
1 (14 to 15-pound) fresh turkey
3 tablespoons vegetable oil
Salt and freshly ground black pepper
10 fresh sage leaves
1 orange, halved
1 head garlic, end trimmed
2 medium red onions, peeled and quartered
3 medium Pink Lady, apples, cored and halved
No Recipe Recipe: Simple Gravy, recipe follows
6 tablespoons butter
6 tablespoons all-purpose flour
Chicken broth
A few fresh sage leaves
Apple juice
Salt and freshly ground black pepper
Nutmeg
Directions:
Heat the oven to 500 degrees F.
Remove the turkey from the refrigerator and let come to room temperature while oven heats, about 30 to 45 minutes. Discard the giblets and reserve neck. Rinse out the turkey's cavity and pat dry with paper towels. Rub the turkey all over with 2 tablespoons of the vegetable oil; season generously with salt and freshly ground black pepper. Put the sage leaves under skin. Season the cavity with salt and pepper, squeeze 1/2 of the orange all over the bird and put the other half inside the cavity along with the garlic.
Arrange the turkey in a large roasting pan and roast until the skin is golden brown, about 20 to 30 minutes. Put the neck, onions, and apples in a bowl and toss with remaining 1 tablespoon of the vegetable oil. Season well with salt and freshly ground black pepper.
Reduce the oven temperature to 350 degrees F and add the apples, onions and turkey neck to the roasting pan. Baste with pan drippings about every 45 minutes. Roast the turkey until the internal temperature of the inner thigh reaches 160 degrees F on an instant-read thermometer.
Remove from the oven to a cutting board and let rest uncovered, at least 30 minutes, while you prepare the gravy. Remove apples and the onions to a serving platter. Carve the turkey and arrange on the serving platter. Serve with the Simple Gravy.
No Recipe Recipe: Simple Gravy:
Directions:
Melt the butter in a medium saucepan over medium heat. When it foams, whisk in the flour until smooth. Cook until the flour loses its raw flavour and turns peanut colour, about 3 to 5 minutes. Whisk in chicken broth until the mixture is smooth. Bring to a simmer, then reduce the heat too low and cook until it becomes a light tan colour.
Meanwhile, remove the turkey from roasting pan and set aside to rest. Discard all but 1 tablespoon of the drippings from roasting pan. Put the pan on the stove top over medium heat. When pan juices are hot, add the sage leaves and fry until fragrant, about 1 minute. Remove the neck bone. Add a big splash of apple juice and scrape up the browned bits at the bottom of the pan.
Strain this liquid into the thickened chicken broth mixture and season with salt, pepper and nutmeg. Whisk to combine. Bring to a simmer and cook for a few minutes until thick and creamy, about 3 to 5 minutes. Serve with your turkey and sides.
Recipe courtesy of Aida Mollenkamp for the Food Network
JERK TURKEY DRUMSTICKS
Serves 10-12
Ingredients:
3⁄4 cup olive oil
1⁄2 cup packed light brown sugar
1⁄2 cup chopped scallions
1⁄4 cup freshly ground black pepper, plus more to taste
2 1⁄2 tbsp. kosher salt, plus more to taste
1⁄2 tbsp. dried thyme
1 tsp. ground cinnamon
1⁄2 tsp. freshly grated nutmeg
1⁄2 tsp. ground cloves
1⁄4 cup freshly squeezed lime juice, plus wedges for serving
1 1⁄2 tbsp. soy sauce
6 cloves garlic
2 Scotch bonnet or habanero chillies, stemmed and chopped
2″ pieces ginger, peeled and thinly sliced
8 tbsp. unsalted butter
1 (12) lb. turkey
Directions:
Heat oven to 500˚. Combine ¼ cup oil, sugar, scallions, ¼ cup pepper, 2½ tbsp. salt, thyme, cinnamon, nutmeg cloves, juice, sauce, garlic, chilies, and ginger in the bowl of a food processor; puree until smooth and set aside. Melt butter and mix with remaining oil; set aside. Rinse turkey and pat dry with paper towels. Season turkey inside and out with salt and pepper and let come to room temperature.
Transfer turkey to a rack set inside a roasting pan, tuck wings behind turkey and tie legs together with kitchen twine. Brush turkey all over with butter, reserving some for basting. Pour 2 cups water into roasting pan and roast turkey, brushing once with more of the butter, for 30 minutes. Reduce heat to 350˚ and continue roasting, brushing occasionally with butter, until an instant-read thermometer inserted into a thigh, without touching the bone, reads 150˚, about 2 hours. Remove turkey from oven and baste completely with reserved sauce. Place back in oven and continue to cook until internal temperature reaches 165°, about 20 to 25 minutes more. Transfer turkey to a cutting board, and let sit for 30 minutes before carving; serve with lime wedges if you like.
Jamaican Jerk Roast Turkey Courtesy of www.saveur.com
Most of all Eat, Drink and be Merry!