Published: 07/12/2016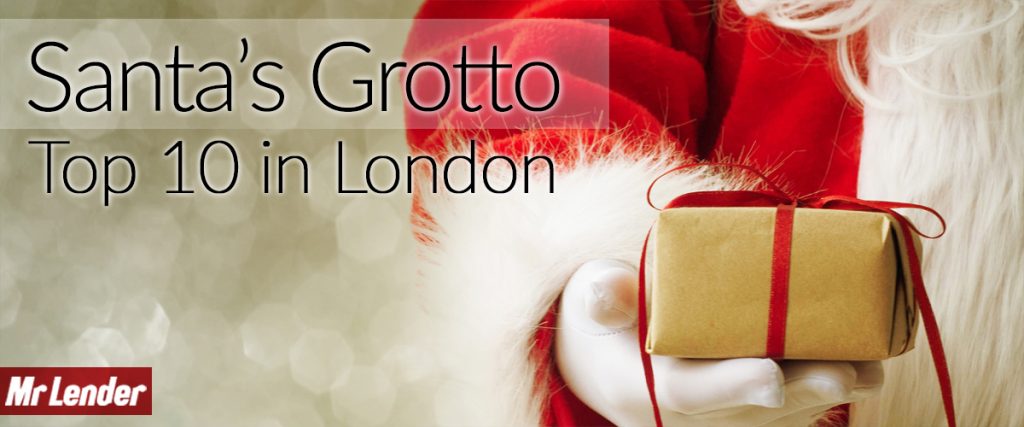 It doesn't get more magical and mysterious than Christmas as a kid. The thrill of waking up on Christmas Day to discover presents under the tree, bite marks in the mince pies, and an empty glass of milk. And meeting the big man himself is the top of the list when it comes to magical, Christmas experiences.  Mr Lender, a UK based short term loan provider, has put together a list of ten of the best Santa's grottos in London.
Leicester Square
Leicester Square will be the permanent residence of Santa Claus until Christmas Eve, meaning children still have ample time to meet the big man himself. Guests will meet Santa's helpers, before sitting on his knee and receiving a gift. The audience will then be treated to a special bespoke story, read by Father Christmas. The sessions last 25 minutes, with tickets being sold for £10.
Santa Land is a magical place for Children of all ages, with plenty of rides and places to grab some festive food, and of course – Santa's grotto. Guests can take a walk round Santa's Toy Factory fun house where Christmas gifts are being made. Visits to the grotto are free, but spaces are limited – so get there early to avoid disappointment!
The North Pole Village is coming to Kew Gardens this year, where children can meet Santa and his elves, before enjoying the traditional, vintage rides. Tickets to Christmas at Kew are available to purchase online at a discount or at the gate on the day. The event will be running most days until the 2nd of January. (Visit the website for more information regarding prices and available dates)
Battersea Park zoo
After meeting Father Christmas and receiving a special gift, children can then venture outside and meet the animals at the zoo. Santa will be making an appearance on the 10th and 11th of December, then from the 16th right up until Christmas Eve. Tickets can be purchased in advance, or on the day.
Kung Fu Panda will be helping Santa at his grotto this year, where guests can get involved in interactive games, as well as a trip to the North Pole via the big screen. Personalised boarding passes and Christmas passport are all you need to step aboard Po's rocket powered cart, where you will be transported to Santa's study. The big man will know children by name as they enter – making the experience that little bit more special.
Christmas at Harrods is sure to be a magical experience. Trips to Santa's grotto are designed to suit children based on their age, with two separate experiences available for guests. Go on a journey through the Ice Kingdom to Santa's grotto, where you will learn about the Harrods Christmas Story on the way. Children can then meet Santa, before taking a special gift home with them.
Forget the traditional sleigh that we're all so accustomed to associating with the big man in red. Father Christmas will be welcoming guests aboard his magical double-decker caravan at Sutton House this year. Children can hear what it's really like to fly a reindeer, before receiving a special present. Visit the website for information regarding dates and ticket prices.
This Santa's grotto will be taking place over two venues, in the Victorian streets of the Museum of London, and the Museum of London Docklands. There will be Victorian carol singers and traditional Christmas decorations to get you in the Christmas spirit. Children can visit Santa in his grotto, where they will be given a special Christmas present. The grotto will be open until the 23rd of December. Ticket information can be found through their website.
Do things a little differently this year, and sail with Santa along the River Thames. Children will receive a soft drink and a cookie, and of course a special Christmas gift, while adults will also be able to join in the fun with a nice, warm, wintery glass of mulled wine and a mince pie. Visit the website for ticket information.
The Royal Albert Hall know how to do Christmas with a bang. Guests will join a Victorian doorkeeper on a journey through the Royal Albert Hall, learning all of its secrets along the way. You will all work together to solve puzzles and clues to help find the key to the grotto. Tickets must be purchased for children over two, while adults go free.