Published: 11/05/2018

Almost a month on and TSB is still battling to repair the damage caused after an IT glitch led to severe problems for the company. With an unknown number of customers thought to have faced issues caused by the glitch, TSB is expected to pay out quite a hefty sum in compensation and fines. Short term loan provider, Mr Lender, investigated what caused the glitch and how you could claim compensation as a result.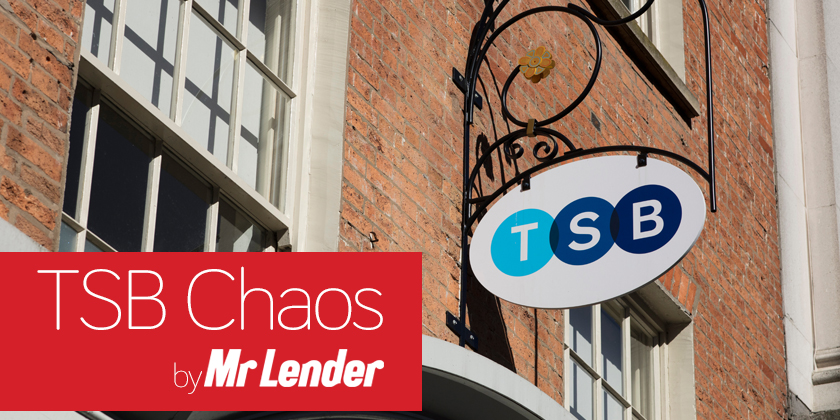 TSB IT Glitch
On Friday 20th April, TSB began moving customer records to a new platform created by their new owners, Sabadell. The work was meant to have been completed two days later at 6pm, but three weeks on and the website and app are still not running at full capacity. Two weeks after the mishap, the bank were faced with around 40,000 complaints. The move to the new system was said to save the company £100million each year, though it is thought compensation claims will eat into the majority of these savings for 2018.
Customers have faced a number of issues over the last few weeks, including being unable to access their mortgage accounts, being unable to make payments, and even being shown other customers' account information. Some small businesses have even stated that they have been unable to pay employees due to not having access to their account.
Mac, a retired photographer, says "the thing that most infuriates me is the statements coming out of the bank. They are not being honest. They keep saying it's 'intermittent' when it's not." Another TSB business customer says they had to visit a TSB branch to transfer a lump sum of cash to HSBC as they were unable to pay employee salaries from their TSB account.
Attempting to call the customer service team also appears to be an impossible feat for a number of customers. This has proved particularly problematic for customers who want to report a card lost or stolen, or if they've been a victim of fraud.
A spokesperson for TSB reportedly said, "everyone at TSB is working around the clock to fix the issues some of our customers have been experiencing, and progress is being made. Our focus remains on getting things back to normal for our customers as soon as possible, and we will ensure that no customer is left out of pocket as a result of the issues".
Meeting with parliament
Last week TSB bosses were called to a meeting with parliament's treasury committee to discuss how the issues had "been allowed to happen, why customers were still experiencing problems and when they would be fixed". Conservative MP and chair of the committee, Nicky Morgan, described TSB Chief Executive, Peter Pester, as a "staggering example of a Chief Executive who seems unwilling to acknowledge the scale of the problem".
Morgan went on to say that "warm words and platitudes will not suffice. TSB customers deserve to know what has happened, when normal service will resume and how they can expect to be compensated".
Despite Pester claiming that 95% of customers were able to log into the mobile app and website without issue, MPs at the hearing read out a series of emails and tweets from disgruntled customers indicating that the glitch was far from resolved. Two MPs also attempted to log into their TSB accounts during the hearing but were unable to do so. In response, Pester simply stated "it's nice to know we have so many customers in the room, thank you very much for using TSB".
What now?
The UK bank has now reportedly hired in specialists from computer manufacturing company, IBM, to try and resolve the technical issues. Despite calling in the experts, TSB is still unable to put a date on when service will resume as normal. A spokesperson has said, "we're not in a position to confirm how long things may take but crucially our focus is getting things back to normal for our customers as soon as possible".
TSB are also reported to have accountancy firm Deloitte advising on a compensation strategy, and law firm Slaughter and May are said to be investigating the cause of the glitch. The Financial Conduct Authority (FCA) are also said to have staff inside TSB "monitoring developments".
Peter Pester has reportedly volunteered to forgo his £2million bonus which he was due to receive for successfully integrating TSB with Sabadell. However, he is still set to receive up to £1.3million in other bonuses for the year of 2018, as well as a further £1.3million in basic pay, pension contributions and benefits.
Compensation
While it's uncertain how many of the 1.9 million online customers have been affected by the issue, TSB are expected to face heavy fines and a large compensation bill as a result. In 2012, RBS faced an IT meltdown of their own and had to pay out £70million in compensation.
According to Money Saving Expert, you could be entitled to compensation if you've lost money due to the glitch. For example, if you were unable to log into your account to make a payment and faced "financial penalties" as a result. An example of this would be a delay in paying a credit card bill due the glitch and being hit with added interest charges or late penalties.
You may also be entitled to some form of compensation if your phone bill is particularly high from trying to call through to customer service to resolve an issue. Of course, this may be slightly harder to prove, so it's best to gather as much evidence as possible.
A couple from near Glasgow are thought to be the first people to receive compensation for the trouble they've faced, receiving a total of £40 – £15 in refunded interest charges as well as £25 for the inconvenience.
News and Feature Editor at Money Saving Expert, Steve Nowottny, said "the TSB meltdown … has unsurprisingly infuriated customers and many are demanding compensation. Yet what they're actually going to be offered still remains very unclear.
"While it's encouraging to hear at least one customer has now been paid compensation, there's now likely to be a huge backlog of complaints for the bank to work through. Of course TSB's immediate focus is on getting its systems up and running again. But if it wants to try and salvage even a little customer goodwill, it should be open and specific now about exactly what those who've been affected will be entitled to – and then ensure redress is paid as quickly as possible."