Published: 21/05/2019

After a nail-biting wait, we're delighted to let Mr Lender customers know that we have been named Alternative Lender of the Year at the Credit Awards 2019!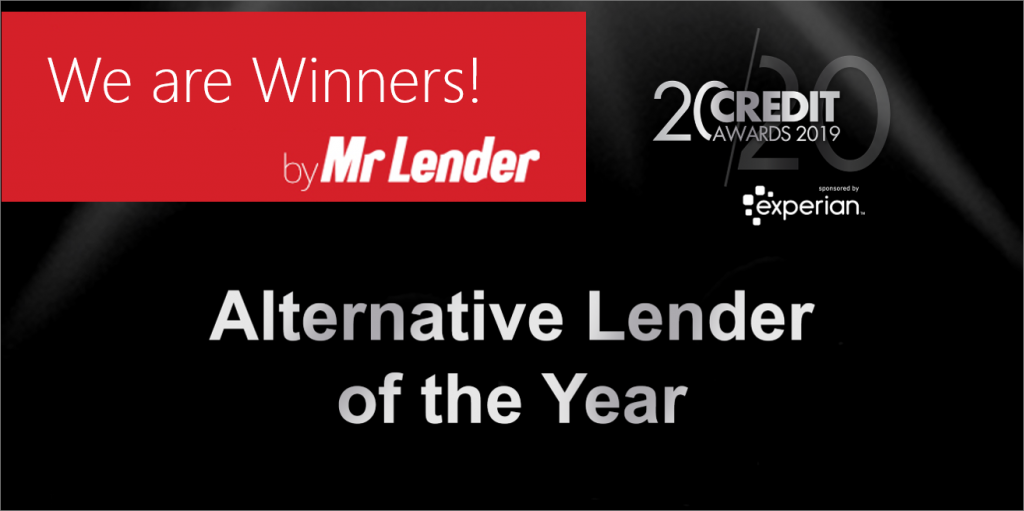 We scooped the coveted prize at the awards ceremony held in London this month – and we haven't been able to stop smiling since!
We were honoured to have even been nominated for not one but two awards and to walk away with the coveted Alternative Lender of the Year Award. Plus, we had to let some of our competitors get some recognition too!
Our ethos has always been 'to lend responsibly and to treat people how you would want to be treated', and we have always prided ourselves on being a company that provides credit to individuals who would otherwise be unable to obtain mainstream credit.
Since Mr Lender was founded in 2009, we have gained a monumental amount of knowledge and awareness about how to responsibly lend money to the right customer, the customers that need it the most and more importantly those that can afford to repay it.
We are proud to be a lender you can turn to for help at a difficult time when others might have said no – so it's humbling to be recognised for that by one of the industry's most respected awards programmes.
CEO Adam Freeman said, "We are ecstatic to have won the Alternative Lender of the Year Award at the prestigious Credit Awards 2019."
"For the achievements, hard work and dedication of the entire team to be recognised by the industry leaders is a real honour for the company and for me personally. Our customers are at the heart of all we do and we pride ourselves on lending responsibly to those who require a short term loan."
"As our exceptional customer reviews go from strength-to-strength and to also be celebrating our 10th year as a leading lender, this award will truly make 2019 a special year."
Over the last three years, Mr Lender has proven to be one of the most trusted lenders in the market with nearly 27,000 positive reviews on Reviews.co.uk and Trustpilot.com combined.
Our customers describe us as 'professional', 'efficient', 'helpful' and 'prompt'. Their feedback means everything to us, and now we also have the backing of the industry titans who judged the awards.