Published: 23/11/2017


November is almost over, Christmas is just over four weeks away and 'I'm a Celebrity' is back on our TV screens, which means just one thing – Black Friday has come around again. Whether you're new to the annual shopping frenzy or you're a veteran at it, Black Friday is a day of deals and discounts for everyone. Short term loan provider, Mr Lender, has put together a guide to help you learn a bit more about Black Friday and just how to make the most of all the deals and discounts on offer.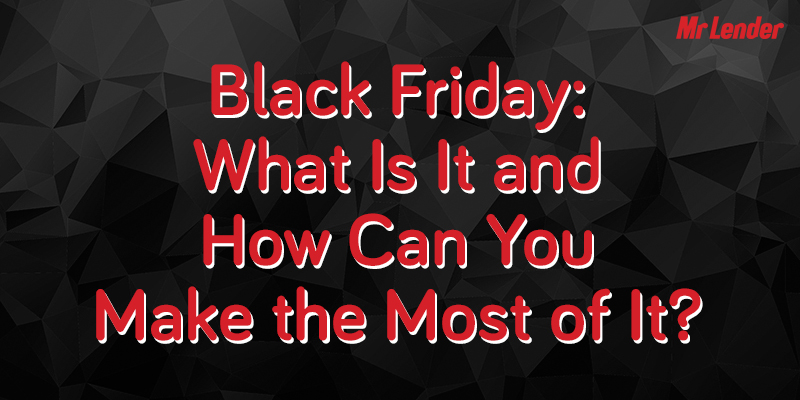 What is Black Friday?
Black Friday is the first Friday following Thanksgiving, where businesses offer limited time deals and discounts to their customers. Typically an American tradition, this national event has now made its way across the pond – despite the UK not traditionally taking part in Thanksgiving. Black Friday has often been compared to the Boxing Day sales in the UK as consumers hit the shops to make the most of the deals on offer.
It's hard to determine just when Black Friday came to be, but it's often said that it was around 1924 when Macy's held their first Thanksgiving Day Parade that Black Friday began. Other retailers soon saw the benefits of offering holiday discounts to their customers and so joined in with the trend. There are also a number of theories as to the origin of Black Friday, but the most popular belief is that the Philadelphia police department coined the term as it was often seen as an ominous day to venture out. Traffic and congestion on the roads became chaotic with the abundance of shoppers hitting the stores, meaning the police department were often busier than usual on this particular day.
When did the UK start celebrating Black Friday?
While Black Friday has been around in the US for almost 100 years, it's only been in the UK for around seven. In 2010, Amazon introduced Black Friday deals to the UK which proved a highly popular concept with many consumers taking advantage of the offers. Other retailers quickly joined in and began offering their own Black Friday deals, both online and in store.
It wasn't until three years late in 2013 though when Black Friday shopping spirit really kicked off. Asda ran a Black Friday promotion where they offered "earth-shattering deals" with "unbeatable prices". In true American Black Friday style, shoppers flocked to the supermarket stores and waited eagerly outside the locked doors. Stampedes reportedly ensued in some stores, with scuffles kicking off in others in a bid to grab cut price televisions. Asda responded to the reaction to their Black Friday promotion by saying "our customers were eager to take advantage of the great offers available to them." They told The Telegraph that they sold 16,000 tablet devices in just one hour.
The following year, even more retailers got involved and the Black Friday craze quickly took shape. Tesco reportedly had to call the police on their own customers to control the peace. In 2015, Asda toned down their Black Friday promotions, saying "this year customers have told us loud and clear that they don't want to be held hostage to a day or two of sales."
While it may seem like the Black Friday craze is another chance to boost sales and the economy, studies have shown that people are simply choosing to spend their money earlier in the Black Friday sales as opposed to the more traditional Boxing Day sales. Consumer spending is now reportedly down in December compared to previous years, but up in November as a result of Black Friday.
Black Friday shopping tips
If you plan to take advantage of the Black Friday deals this year, there are plenty of tips to make the most of the day and get the best offers without the fuss. The first tip is to avoid the chaos and simply it out all together. Experts have said that many deals offered on Black Friday are usually brought back in the run up to Christmas anyway, so there's very little need to go all out and hit the shops on Friday.
When there are so many great deals on the market, it can be quite easy to overspend. One way to make sure you can get the best of Black Friday without going overboard, is to simply make a plan. Before you hit the shops or the Web, make a list of all the items you truly need – whether they're for personal use or Christmas presents. Another tip is to shop around to get the best of the best deals available. While any sort of discount is great, getting a cheaper deal is even better. Shop around and compare retailers to make sure you're getting the cheapest and best deal on the market.
To avoid the crush of shoppers on Black Friday, head to the shops a day or two earlier. While the sales were once limited to just one day, the Black Friday sales now start well before the day itself and will often continue for an additional few days after too. Choosing to shop online is another way to avoid the chaos. A study from PricewaterhouseCoopers (PwC) says 51% of UK shoppers plan to shop over the Black Friday/Cyber Monday weekend – 75% of which will be online.
Lisa Hooker, Consumer Markets Leader at PwC said "many Black Friday sales have begun early and will extend past the weekend and could be turning into Black Fortnight in some sectors. Whilst perhaps due in part to the subdued October sales, it also reflects more planned promotions over this period."
The best ways to make the most of the Black Friday weekend is to take your time and don't be pulled in to the chaos. Make a plan and don't go in unprepared and don't just buy up the first offer you come across. If you can do all of that, you're bound to snap up a few good deals. Good luck!