Published: 19/12/2017


While December is usually a joyous time for families and full of reasons to celebrate, it's also a time for families to be vigilant and keep their homes safe. Autumn and winter are reportedly the busiest seasons for burglars, as they tend to take advantage of the longer evenings. According to the Express, more than 15,200 domestic and 10,700 commercial burglaries took place in December 2016 alone, with the 23rd December the most likely day for them to strike. To help keep your home safe and secure this winter, Mr Lender scoured the internet to bring you tips and advice from professionals and people in the know.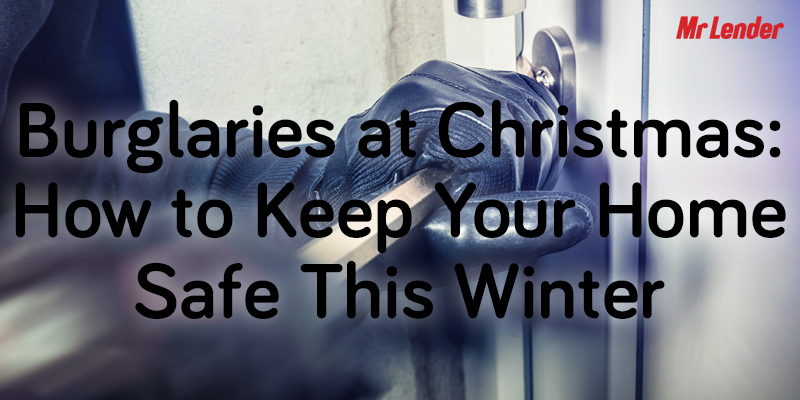 Crime statistics
With thousands of burglaries taking place across the country every year, there isn't a single place that's immune from these criminals, however some places are most definitely worse than others. According to the Express, London is the worst area in the UK for burglaries with 43,000 domestic and 25,400 commercial burglaries taking place throughout 2016. Greater Manchester is reportedly the second worst city when it comes to burglaries, with almost 16,900 domestic and 12,200 commercial burglaries last year. West Yorkshire comes in third with domestic and commercial burglaries reaching 13,700 and 12,100 respectively.
The statistics show that Londoners most definitely need to be more vigilant when it comes to home security at Christmas time, but one borough is most at risk. According to the Evening Standard, the borough of Redbridge has an increase of 52% in burglaries from November to January compared to the rest of the year. Figures show that in this borough, 8.39 homes out of every 1,000 are expected to be targeted at Christmas – which stands in contrast to boroughs like Sutton who have an increase of 26% in burglaries over this period, and 3.7 homes out of every 1,000 could be targeted.
A Redbridge Council spokesperson said "burglary rates traditionally increase at this time of year and we are working in partnership to support the police to bring burglary back to more acceptable levels. We have introduced a number of measures such as; alley gating schemes, free home security improvements for the most vulnerable, home security advice for residents and a wide range of activities to tackle bogus callers and rogue traders. We remind homeowners to keep doors and windows locked and to use timers on light switches when they go out."
Marketing Manager for LaptopsDirect, Mark Kelly, said "as the clocks go back at the end of the month and nights get darker, it is imperative that Brits really consider the importance of home security. Whilst they may think they are saving time by omitting a few basic security measures, the simple fact is that they are doing so at the expense of risking being burgled. This is especially worrying given the recent figures that show how recorded crime has risen by 13% from the previous year.
The research shows just how many Brits are compromising their security. Evidently, more of us need to understand the importance of protecting the home and make security tasks a higher priority."
Tips and advice
Besides ensuring your home is secure and locked at night and when left unattended, there are a whole host of other measures you can take to reduce your chances of being targeted this winter:
Outside the home:
One simple step you can take is to think carefully about what is being left outside your home and in the bin. By leaving packaging outside your house for expensive items, burglars have a clear idea of what is inside the house and may be more likely to try and break in. When ordering Christmas presents online too, make sure parcels are not left outside your door as they can be easily taken and sold on.
Ensuring you also have a good quality camera system in place is also likely to deter any potential burglars. Co-presenter of Beat the Burglar, Michael Fraser, said "there are quite a few products that are worth buying to protect your home, and first on the list are the apps on your phone that show through a camera by your front door. These allow you to immediately see who is at your front door, and alert you to activity on your property."
It's also important to secure any access points to the home when you go out or at night. One ex-burglar claims they once broke into a home through a doggy flap, so make sure any dog or cat flaps are secured when not in use.
Inside the home:
Securing the outside of the home is one of the most important steps to preventing a break in, however it's important to think about the inside too. Keeping keys away from doors and windows is one way to help secure your home, as a skilled burglar could quite simply use a device to hook onto the keys through the letterbox and then enter the property. Some professionals also advise that both house and car keys are hidden at home, as there is an increase in the number of burglars breaking into homes and stealing keys before returning at a later date, or driving away using the stolen keys a few days later.
Distraction burglars are also something to be wary of over the Christmas period. This is when someone will come to your house claiming to be from a company and distract you while someone else burgles your home. If you're unsure if someone is who they say they are, call the company they say they're from. If the person offers to provide you with a number, never accept it as it could be bogus. Always search for the number yourself and use your own phone to call through.
Going on holiday
Over the Christmas period there are lots of people who choose to go on holiday, or are away visiting friends and family. To reduce your chances of being broken into this winter, it's important that you create an illusion of someone being at home. If you receive a newspaper or milk delivery, cancel these to prevent them building up on your doorstep. You can also use the Royal Mail's 'Keep Safe' service to stop any build-up of mail too. If you have a trusted friend, family member or neighbour, ask them to go in and regularly open and close curtains, turn lights on and off, and turn the TV and radio on during the day. You can even set the lights and electronics to come on at a specific time, however you should always make sure they go off at a reasonable time as a television or radio blaring at 3am, for example, is going to arouse suspicions.
It's also important that you're careful about what you're putting on social media. If you put online that you're going on holiday, a potential burglar will know that the house is going to be unoccupied. Your best bet is to set your social media accounts to private to avoid any strangers from being able to vet your accounts. However, a burglar doesn't always have to be a stranger – they can also be someone that you know. This means it'll be even safer to avoid posting any holiday plans whatsoever, even if your account is private. Instead, wait until you're home before posting any holiday snaps and ask family and friends to not tag you in any posts which will make a burglar aware that you're away travelling.