Published: 15/12/2017


With uncertainty around Brexit, the Trump administration, global warming, as well as a whole host of other issues, it's important for us to take note of the current economic climate – both in the UK and around the world. There are many ways in which we can determine the state of the economy and the effect that certain issues have on it, such as by analysing exchange rates, inflation, and – most notably – house prices. Short term loan provider, Mr Lender, looked into the future of the housing market and how house prices are set to shape up in the coming years.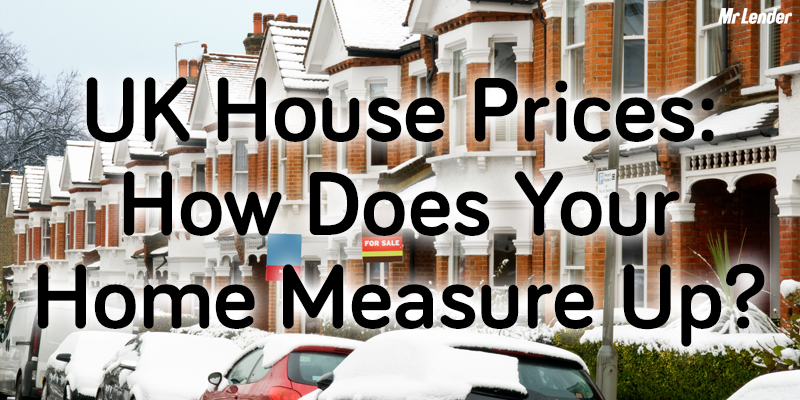 House prices in the UK
According to Halifax, house prices have continued to rise this year, however they are beginning to slow down. From January to October this year, house prices had risen by 4.5% in total. By the end of November, they were up by just 3.9%. House prices are expected to continue to slow further in the long run as inflation continues to rise at a faster rate than wages.
Halifax's Managing Director, Russell Galley, said "the imbalance between supply and demand continues to support house prices, which doesn't look like changing anytime soon. Further ahead, increasing affordability issues, as price increases continue to outstrip wage growth, are likely to curb housing demand and cause price growth to ease."
Estate agents, Savills, say that while house prices may be slowing down, it wouldn't be farfetched to suggest that £33,000 on average could still be added to the value of homes over the next five years. By 2022, the average cost of a home in London is expected to be around half a million pounds.
Changes to Stamp Duty
There are plenty of reasons why house prices might rise, including an increase in demand, and changes to the house-buying process. In the recent Autumn Budget, it was announced that there would be changes to Stamp Duty. First time buyers now do not need to pay Stamp Duty on a property up to the value of £300,000. Halifax say the changes to Stamp Duty will help to push house prices in London and the South East up even further. They also claim that the average cost of a home in the UK is £226,821, meaning most people will not need to pay any Stamp Duty.
Cost of housing
While house prices are rising nationwide, there are certain parts of the country which feel the effects more than others. According to the BBC, first time buyers in London are on average 31 years old and have a deposit of £98,368. Savills say the average cost of a house in London in 2017 is £479,000 – this is up a whopping 70% from 10 years ago. House prices in London reportedly rise three times faster than the rest of the UK, and are around 12.5 times the average salary. With these statistics in mind, it comes as no surprise that reports in August 2017 showed that for the first time since 2012, more people were leaving London than moving in.
Savills' Research Analyst, Lawrence Bowles, said "London's housing market has been pushing up against the limits of mortgage regulation and affordability for some time." He went on to say "the Brexit vote was the tipping point that slowed price growth. Weakened sentiment, combined with expected interest rate rises, now point to small, short term price falls next year.
"Greater economic and political uncertainty should trigger a return to growth in 2020, though this will be capped by borrowing constraints as gradual increases in the cost of mortgage debt impinge on affordability."
House prices are without a doubt rising at an alarming rate in the Capital, but it's not only the London population who are feeling the effects of economic uncertainty on the housing market. As more and more people are forced out of the city, they're moving to other (slightly more affordable) cities across the country, namely Manchester. This influx of people has inevitably influenced the cost of housing in these areas too.
The North West is expected to face the biggest rise in house prices over the next five years. According to the Evening Standard, house prices in this region could rise by as much as 18.1% by 2022, taking the average house price from £156,000 to £184,000. The North East, and Yorkshire & Humberside follow close behind with a predicted rise of 17.6% in these regions. The findings show house prices in London are expected to rise by just 7.1%, however they will still be the most expensive homes at £505,000 on average.
Rising property prices
It's not just in London and Manchester that property prices are rising rapidly too. Home buyers are also moving further afield and taking advantage of newly built transportation links such as improved motorways and train lines. In November 2017, The Guardian wrote an article stating that an area in Birmingham is one of the poorest places to live in the UK, yet has the fastest rising property prices in the country. In 2016, Ladywood was named by End Child Poverty as having the worst levels of child poverty in the UK.
According to The Guardian, in the 12 months up to July property prices in the area rose by 17%, meaning house prices in the area rose from £147,121 in 2016 to a staggering £172,498. Local estate agents in the area say that "an influx of young professionals and investors" are to blame as the new HS2 railway is being built which will eventually link London, Birmingham, Manchester, Liverpool, Leeds, Sheffield and the East Midlands. Parts of the rail line are due to open to the public in December 2026, with the rest opened by around 2033. The new 'super hospital' in nearby Smethwick is also being blamed for the rapidly rising house prices. Due for completion in the spring of 2019, the hospital will have an Urgent Care Centre capable of treating 35,000 people.
One estate agent in Ladywood said "a lot of people are investing here. It seems people are starting to see Ladywood in a different way. We have HS2 coming, and there's the new big hospital in Smethwick.
"It's often been named as one of the poorest places in the country, but it's completely different now. Lots of young professionals like it because it's so close to the city centre. A lot of new flats are going up and a lot of Londoners are buying."
Average house prices in the UK
Online estate agents, Zoopla, have a heat map on their website showing average house prices across the UK. Here are just a handful to give an idea of how they vary across the country:
| | |
| --- | --- |
| Kent | £347,578 |
| Essex | £368,881 |
| Cornwall | £271,336 |
| Devon | £293,664 |
| Cardiff | £239,848 |
| Swansea | £174,324 |
| Merseyside | £164,379 |
| Greater Manchester | £195,342 |
| Lancashire | £166,619 |
| Leicester | £234,645 |
| Isle of Wight | £256,788 |
| West Yorkshire | £186,448 |
| South Yorkshire | £168,996 |
| Cumbria | £199,815 |
| Tyne and Wear | £173,649 |
| Edinburgh | £289,253 |
| Glasgow | £189,192 |
| Fife | £170,430 |
| Dundee | £168,242 |
| Aberdeenshire | £229,847 |
| Orkney | £144,277 |
| Shetland | £143,916 |